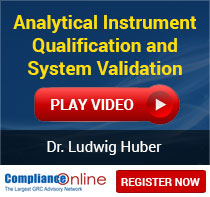 PALO ALTO, Calif. (PRWEB) January 25, 2018
Analytical Instrument Qualification and System Validation
Watch the live recorded streaming video of seminar over the Internet. The seminar broadcast includes speaker videos and coordinated PowerPoint presentations.
This 2-day course provides the regulatory background and guides attendees through the complete equipment qualification, calibration and computer system validation processes from planning to reporting. It also helps to fully understand Part 11 and Annex 11 requirements to ensure and document integrity and other requirements for electronic records and signatures.
Learning Objectives:
Attendees will:

Learn about the regulatory background and requirements for equipment qualification according to USP 1058 and computer system validation according to GAMP Guides
Be able to explain the difference between equipment calibration, qualification and system validation
Learn which equipment/systems need to be qualified or validated
Be able to allocate equipment and systems to USP 1058 and GAMP categories and to design and execute qualification/validation protocols accordingly
Understand the logic and principles of instrument qualification and system validation from planning to reporting
Be able to explain your company's qualification and validation strategies
Understand how to archive raw data from hybrid systems: electronic vs. paper
Be able to define and demonstrate Part 11 compliance functionality to auditors and inspectors
Be able to develop inspection ready documentation during on-going routine operation
Learn how to ensure, document and audit integrity of raw data and other records
Dr. Ludwig Huber is an expert for FDA and equivalent international compliance and for ISO/IEC 17025 laboratory accreditation. He is also the Chairman, presenter and panel discussion member at US-FDA industry training sessions and conferences. He served as a team member of PDA's task forces "21 CFR Part 11", of US-FDA internal documents, and of the GAMP® special interest group on laboratory equipment. In addition, he was awarded as Presenter of the Year of the Institute for Validation and Technology. He is the author of the books "Validation and Qualification in Analytical Laboratories, and "Validation of Computerized Analytical and Networked Systems", Interpharm Press.
Registration: Contact customercare(at)complianceonline.com or call +1-888-717-2436 to get registration details of this seminar.
https://www.complianceonline.com/analytical-instrument-qualification-and-system-validation-seminar-training-80113SEM-prdsm
About ComplianceOnline
ComplianceOnline is a leading provider of regulatory compliance trainings for companies and professionals in regulated industries. ComplianceOnline has successfully trained over 55,000 professionals from 15,000 companies to comply with the requirements of regulatory agencies. ComplianceOnline is headquartered in Palo Alto, California and can be reached at http://www.complianceonline.com. ComplianceOnline is a MetricStream portal. MetricStream (http://www.metricstream.com) is a market leader in Enterprise-wide Governance, Risk, Compliance (GRC) and Quality Management Solutions for global corporations.
For more information please contact:
A Reuben Bernard
Associate Director - ComplianceOnline
2600 E Bayshore Rd
Palo Alto CA USA 94303
Phone - +1-650-238-9656 | +1-888-717-2436
Fax - 650-362-2367
Mail: reuben(at)complianceonline(dot)com
Website: http://www.complianceonline.com