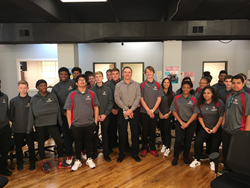 PHILADELPHIA (PRWEB) January 25, 2018
May 2, 2018 at the Sheet Metal Worker's Union Hall, 1301 S. Columbus Boulevard Philadelphia, PA – Liguori Academy hosts its 2nd Annual Boundless Celebration. The Boundless Celebration is the school's main fundraiser that brings together friends and supporters of Liguori Academy to recognize the school's accomplishments and the people who helped make it possible. This year's recipient of the Boundless Award is Stan Woodland, CEO of CMI/Compas.
Stan has been a long-time supporter of Liguori Academy through his commitment to fundraising for Liguori's remediation program, lending his team of experts to serve on an advisory committee, and being a role model for the students, to name a few. As CEO of his pharmaceutical marketing company, Stan's goal is to foster a corporate culture that demonstrates innovation and excellence-both personal and professional. Over the years Stan has been honored for his vision in the industry and for his philanthropic contributions. His honors include the PM360 ELITE, PharmaVOICE 100 and MM&M Top 10 Innovation Catalysts.
Live entertainment will be provided by The Doo Wop Project, featuring cast members from Jersey Boys and Motown the Musical. The night will also feature a live auction, and a silent auction. Cocktails and lite fare will be served. Sponsorships and individual tickets are available for purchase at http://www.liguoriacademy.org.
About Liguori Academy
With a mission to prepare future leaders through individualized learning in a community that offers boundless opportunities, President Mike Marrone opened Liguori Academy in September of 2016. A high school located in the Kensington community of Philadelphia, Liguori offers a curriculum that is individualized and personalized to each student. Aiming to serve students from the underserved communities in Philadelphia, Liguori has grown from a 35-student school, to a school that now offers two programs to nearly 180 students. Liguori Academy is a register 501(c)3 non-profit organization.
Contact:
Shannon Donohoe
Direct of Development & Partnerships
Liguori Academy
609.462.7843
sdonohoe(at)liguoriacademy(dot)org
http://www.liguoriacademy.org