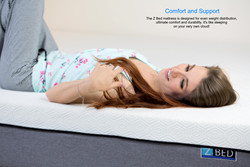 ZBed, the sleep innovators and new premium mattress e-commerce store
MIAMI (PRWEB) January 25, 2018
ZBed, the sleep innovators and new premium mattress e-commerce store, have announced the launch of their capsule bed range, the ZBed and The Foundation. The company's brand new website is now live with its sleek UI and easy online ordering process.
The company seeks to banish the inherent frustration of visiting multiple brick-and-mortar showrooms, where customers habitually pay exorbitantly for lower quality mattresses. As a departure from this industry standard, ZBed seeks to pave a new way by offering a simplified and pared down approach, with its signature model of mattress The ZBed, and ultimate foundation.
EZBed has a very simple and focused aim: to bring customers high quality sleep solutions, with transparency and value in its products.
EZBed Co-Founders, Frank Lucio and Jason Varrichio, made the announcement in the following statement that was released to the press:
"We are delighted to announce the launch of ZBed and introduce ourselves as a breath of fresh air to an industry overstuffed with confusing products, lower quality materials and customers paying through the nose to lay on their backs. Value for money, primo quality and total customer satisfaction are our watchwords. So much so, that we offer a special and unprecedented "90 Night" trial. Customers can try out our mattresses for up to 90 days and return them for free, with no hassles and a 100% refund if they are not completely satisfied."
The statement continued, "We deliver ZBed mattresses and The Foundation door-to-door, and can even arrange delivery to coincide with your relocation state-to-state, or your house or apartment move. Your new ZBed is an investment in yourself and your well being, and we want to make your sleep experience just as enjoyable and refreshing as your ZBed shopping experience."
Design & Technology
Engineered from the finest technology, the ZBed mattress represents the confluence of the "trifecta of sleepology" - blended natural latex and a breathable foam base cushioning a memory foam center. Made exclusively in the United States, each mattress has been designed for superior comfort and durability.
About ZBed
ZBed is a sleep solutions innovator and e-commerce mattress boutique, with a mission to elevate the way the nation sleeps, one bed at a time. The Florida-headquartered company was founded by long-time friends Frank Lucido and Jason Varrichio with a commitment to bringing quality materials, value for money and true integrity to the top-tier mattress market.
To learn more about ZBed, its signature premium mattress and foundation set, or read the blog, visit: http://www.TheZBed.com