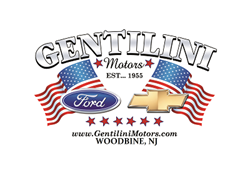 Woodbine, NJ (PRWEB) January 26, 2018
Start your 2018 off right by saving time and money with the New Year Sales Event at Gentilini Motors. This top-notch South Jersey Ford and Chevrolet dealer is currently offering 0% financing as well as great lease deals on select Ford and Chevy models through the end of January.
The New Year is typically full of resolutions and new beginnings. Why not a new vehicle, as well? This January drivers can take advantage of the best deals on America's top two auto brands when they purchase a Ford or Chevy car, truck, SUV, or crossover at Gentilini Motors.
For a limited time, lease a new Ford or Chevy for under $200 a month and 0% financing. Gentilini Motors is currently offering 10 different models at this incredible rate. Lease a brand new Ford Fiesta, Ford Focus, Ford Fusion, Ford Explorer, Chevy Cruze, Chevy Malibu, Chevy Sonic, Chevy Equinox, or Chevy Trax all for under $200 per month!
No need to waste your time shopping around because nowhere is going to beat the deals offered during the Gentilini Motors New Year Sales Event.
Car buyers can also save thousands on quality Certified Pre-Owned vehicles during the Gentilini Motors New Year Sales Event. Plenty of leftover 2016 and 2017 Ford and Chevy models are still available and are being offered at a great price through the end of the month.
But regardless of whether or not you step into a brand new 2018 or purchase a Certified Pre-Owned from Gentilini Motors, you're guaranteed to receive the incredible customer service that has been a staple of the South Jersey dealership for more than 60 years.
About:
As a family owned and operated business for more than 60 years, Gentilini Motors is a pillar of its community because of its commitment to excellent and quality customer service. Gentilini Motors offers unbeatable deals on Ford and Chevrolet vehicles at its dealerships located off of John S. Penn Boulevard in Woodbine, N.J.