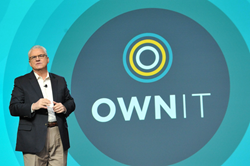 MANCHESTER, N.H. (PRWEB) January 25, 2018
Carpet One Floor & Home members and managers gathered at the Gaylord Texan Hotel in Grapevine, TX last week for their annual Winter Convention. Under the convention theme OWN IT, members shared best practices on how they are owning the customer experience in their stores, on-line and in their customers' homes and offices. They saw new product introductions, reviewed future promotional and digital strategies to attract, engage and convert more customers, and heard from Co-CEO's Howard Brodsky and Rick Bennet on the future direction of their cooperative.
Owning Product
Members were introduced to new products and attended in-depth sessions focused on the growing hard surface side of their business. The cooperative's premier carpet brand — Relax, it's…Lees — was relaunched with a new product assortment, updated display graphics, and fresh, new advertising. Members were introduced to a new line of LVT – InvincibleXT, and they attended a series of three product breakouts to dive deeper into the LVT product category, the trends in hardwood, and the issues related to proper preparation of subfloors for hard surface installations
"Our product and merchandising teams have worked hard to create an agenda that will bring our members up-to-speed on some of the newest trends in flooring and help them serve their customers better," said Eric Demaree, President of Carpet One Floor & Home.
Owning Marketing
Carpet One Floor & Home's marketing team introduced the 2018 promotional strategy and new programs aimed at supporting members through promotional assets and digital marketing. The team also focused on helping members Own It with lead management. Presentations stressed the importance of managing leads well and provided tools and ideas to help members convert more leads to sales.
Owning the Experience
While members took in countless best practices, ideas, and information, they were also treated to ample entertainment and inspiration. Wednesday's session opened with both American and Canadian National anthems sung by Daniel Rodriguez, known as the "Singing Policeman." As a Brooklyn police officer and first responder, Daniel saw first-hand the horror and devastation on 9/11. Daniel's voice has inspired a nation.
American Idol alum, Jax, provided music and inspiration during Thursday's opening. Jax is a soulful singer from East Brunswick, New Jersey and an inspirational young woman who recently released her EP, 'Funny'.
Thursday also featured Retired U.S. Army Staff Sergeant Travis Mills for a closing keynote presentation. Travis was injured while serving in Afghanistan in 2012. He is one of five servicemen that survived their injuries as a quadruple amputee. Carpet One Floor & Home was first introduced to Travis in 2014 as part of their partnership with the Stephen Siller Tunnel to Towers Foundation and their Building for America's Bravest program. Now, as a "Recalibrate Warrior" Travis inspires others as a motivational speaker.
To close out the Convention, Carpet One Floor & Home members were treated to a musical mash-up featuring Broadway stars in "A Tribute to Hamilton." The musical numbers complemented the annual awards presentation at the closing event.
"We've put together a Convention that offered our members ample opportunities to learn from experts and their fellow members," said Demaree. "I'm confident that every member went home with the tools they need to improve their business."
About Carpet One Floor & Home
Carpet One Floor & Home is North America's leading floor covering retailer, with 1,000 independently owned and operated locations in the United States, Canada, Australia, and New Zealand. Carpet One Floor & Home stores are known for a broad selection of carpet, wood, laminate, ceramic, vinyl, and area rugs, including exclusive brands like Bigelow and Lees. They offer a unique customer experience with the exclusive SelectAFloor merchandising system that simplifies the shopping experience and The Beautiful GuaranteeTM, which guarantees that the customer will be 100% happy with their floor. Carpet One Floor & Home is also the home of the exclusive Healthier Living Installation system.