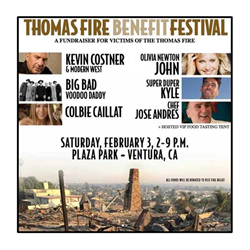 Oxnard, CA (PRWEB) January 26, 2018
Scosche Industries is pleased to join other local companies and organizations in sponsoring the Thomas Fire Benefit Festival on February 3, 2018 in Downtown Ventura's Plaza Park. The Thomas Fire Benefit Festival is an essential community relief effort which event organizers have indicated 100% of the Proceeds Will Benefit Victims of the Thomas Fires.
"As a local company, we have personally witnessed the pain caused by this event with employees losing their homes and being displaced during multiple evacuations as the fires raged on," stated Chris Cowles, Director of Marketing at Scosche. "The recovery need is broad in scope and substantial in nature as so many were impacted by this natural disaster. As such, we are very pleased to lend our financial support to the effort and to come together as part of the greater Ventura County community in participating in the Thomas Fire Benefit Festival, a celebration of the resolve, strength, generosity and compassion that binds us together. We encourage all local business to support the festival and for as many people as possible to attend to enjoy community fellowship, tasty food, a great live music line-up and more, all for a very worthy cause. Together we are #VENTURACOUNTYSTRONG."
About SCOSCHE (pronounced skōsh):
Founded in 1980, SCOSCHE Industries is a Ventura County based, award-winning innovator of consumer technology and car audio products - committed to delivering superior product quality and functionality, exceptional value and unmatched customer service. The designers and engineers at SCOSCHE develop products that reflect a rich heritage in audio and mobile technologies. SCOSCHE finds inspiration in the California lifestyle, culture, music and people. These influences can be seen in the accessories and products that are now in the hands, homes, offices and vehicles of people in over 50 countries. With hundreds of patents/trademarks and countless industry awards received, it is easy to see why SCOSCHE is consistently at the forefront of technology and innovation.
You can follow @SCOSCHE on Twitter, Facebook, GOOGLE+, Instagram , Pinterest and LinkedIn for the latest news on all of the company's award-winning consumer tech and car audio products and accessories. And visit our company Press Room and the company BLOG, both accessible via the company's website.