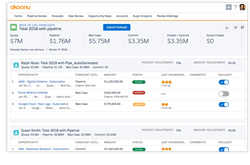 "Akoonu makes the CRM helpful to Sales Reps and Managers in selling."
SAN FRANCISCO (PRWEB) January 30, 2018
Akoonu, Inc.™ announced today a prestigious line-up of enterprise sales talent recently added to the Executive Team, Board of Directors and Advisory Board to support expanding the company's go-to-market efforts and thought leadership position in the emerging market of Account-Based Selling solutions.
As documented by CSO Insights in their 2017 World Class Sales Practices Report, "Making the number is harder than ever. Quota attainment…has dropped from 63% of sales people in 2012 to 53% in 2016." For leaders of enterprise sales teams, these problems are even more acute since onboarding new sales people routinely takes up to twelve months. "By bringing together the wisdom of these leading thinkers in complex sales practices, Akoonu can ensure our applications for Account-based Selling address the fundamental problems facing sales leaders today," says Jeff Freund, CEO of Akoonu. "Our ability to deliver software that reinforces sales process best practices and drive revenue gains for our customers is enhanced significantly by the quality of people we have around the table at Akoonu."
Adding to the company's leadership team, Akoonu appointed Pat O'Brien as Chief Revenue Officer to build out the company's sales organization. Most recently CRO at LeadSpace, a leader in the field of predictive analytics for sales and marketing applications, Pat brings extensive expertise in enterprise selling and sales management. "I've felt the pain of bad data in my CRM pipeline firsthand, many times." says O'Brien. "I'm excited to offer B2B sales teams a solution which tackles all the underlying challenges of producing an accurate forecast in such an elegant way."
In addition to O'Brien, Akoonu is moving to expand the slate of experts it relies on to provide ongoing guidance about market needs and product strategy. The extended Akoonu team welcomes:
David Brock as a Board Member of the Akoonu Board of Directors. A veteran tech industry CEO and Sales leader, Dave currently serves as CEO of Partners in Excellence, a boutique advisory firm, and is author of the acclaimed Sales Manager's Survival Guide. "Akoonu makes the CRM helpful to Sales Reps and Managers in selling," states Brock. "The combination of their data science, intuitive user interfaces and breadth across the sales process offers Sales leaders an opportunity to reinforce their sales process while gaining fresh insight into how buyers are buying."
Amy Guarino to the Akoonu Advisory Board. Bringing a wealth of sales and business development expertise as an advisor, Amy is the COO of Kyndi, the Explainable Artificial Intelligence solution and formerly held various executive roles at Marketo, including VP Business Development and opening Marketo KK (Japan). "Akoonu offers a comprehensive set of sales applications for Account-Based Selling," notes Guarino. "It gives Salesforce users a vertical application tailored specifically to the needs of complex selling without the extensive configuration and custom development typically required."
Skip Miller to the Akoonu Advisory Board. Skip, founder and President of M3 Learning, is a well-known Silicon Valley consultant, speaker and author of ProActive Selling and Selling Above and Below the Line that focus on increasing the performance of sales teams through improved sales process and execution. Skip says, "Akoonu's integration of buyer perspective into the CRM is unique." He continues, "The application reinforces the sales process we want the sales rep to follow and guides their focus to working with the full buying committee."
Andy Paul to the Akoonu Advisory Board. Celebrated author, blogger and host of the podcast Accelerate!, Andy's passion for sales spans more than 30 years. His books include AMP Up Your Sales: Powerful Strategies That Move Customers to Make Fast, Favorable Decisions and Zero-Time Selling: 10 Essential Steps to Accelerate Every Company's Sales. Commenting on Akoonu, "The first time I saw Akoonu, I thought it was one of the more innovative SalesTech offerings I'd seen in a while." Paul continues, "The ability to compare buyer behavior in current deals to historical patterns in winning deals gives sales reps and managers real insight into whether deals are on track."
Akoonu's unique, buyer-aware approach to Account-Based Selling unites these thought leaders in their support for the company. With 93% of companies citing Account-based Marketing as important (Sirius Decisions, 2017), investments in marketing aim to align with sales organizations to identify the buyers that drive purchase decisions in accounts. For Sales to leverage these investments, the CRM needs to adapt to the needs of Account-Based Sales, including increased understanding of collective and individual buyer behavior and support for the complex sales processes needed to win deals. Building on the strength of Salesforce as a platform for CRM data governance, Akoonu for Sales offers the first, buyer aware platform for Account-Based Selling including modules specifically designed for Opportunity and Pipeline Management, Deal Reviews and Forecasting in complex sales.
About Akoonu
Akoonu, Inc. harnesses the power of data science in its flagship SaaS product, Akoonu for Sales, giving B2B Sales organizations a practical, cost-effective solution to the challenges of increasing sales effectiveness while reducing time spent training sales representatives and sales managers. Designed for Sales organizations that rely on Salesforce and execute complex sales in accounts with multiple buyers involved in the buying process, Akoonu integrates buyer signals from multiple sources to deliver new, buyer-aware applications for Opportunity Management, Pipeline and Deal Reviews and Forecasting. Sales Executives, Managers and Account Executives leverage Akoonu's data science applied to historical buying patterns in winning deals to focus strategy, resources and action planning to increase close rates. Akoonu for Sales also gives Sales Executives and Managers the ability to conduct rapid, fact-based assessments of deal status and buyer engagement as part of forecast generation, conduct more productive Pipeline and Deal Review meetings and reduce time spent on data entry and reporting for sales representatives and managers.
Founded in 2014 by veteran enterprise software executives to reinvent complex selling practices in the digital age, Akoonu arms companies with buyer-aware Account-Based Selling on Salesforce® to master their revenue journeys. For more information, visit http://www.akoonu.com.
Salesforce, Salesforce App Cloud, and others are trademarks of salesforce.com, inc., and are used here with permission.
Media Contact
Kathleen Atkins
Email: kathleen(at)akoonu.com
Phone: +1.415.689.5722 ext 106