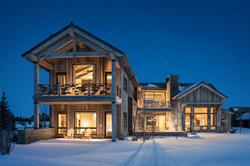 "We are pleased to offer our Jet Card Members access to an exclusive portfolio of breathtaking properties," commented CEO of Private Jet Services, Greg Raiff.
SEABROOK, N.H. (PRWEB) January 26, 2018
Private Jet Services (PJS) has partnered with Luxury Properties Jackson Hole (LPJH), a distinctive vacation rental, caretaking, and lifestyle concierge firm located in Jackson, WY.
In September 2017, Private Jet Services released the Rendezvous Jet Card, which offers members exclusive access and benefits at Jackson Hole Mountain Resort. Due to the overwhelming positive response from members, PJS set out to strengthen their roots in the Jackson Community by partnering with other local organizations. Luxury Properties Jackson Hole, who shares PJS's commitment to excellent customer service, was a natural fit for partnership.
Rendezvous Jet Card Members receive complimentary lift tickets to Jackson Hole Mountain Resort and mountain perks, including guided backcountry explorations, private lessons with mountain professionals, and early access to lifts before the mountain opens. Members will also have elite access to instructor-led adventures, such as heli-skiing, whitewater rafting, mountain climbing, snowmobiling, western-style dancing, fishing, and golf.
Through this partnership, the card will now provide additional benefits for members who rent through LPJH:

Airport transportation/pickup/vehicle shuttle
Luggage transfer
10% off housekeeping
Complimentary concierge services
Grocery delivery
Complimentary welcome package
Lowest rate guarantee for all direct bookings on Luxury Rentals.
"Luxury Properties Jackson Hole is thrilled to embark on an exclusive partnership with PJS! Together, LPJH and PJS share a never-ending goal to offer the highest level of service to our valued clientele," stated Reid Matthews, Director of Operations and Sales. "Through our partnership, LPJH and PJS will create an increasingly seamless and positive experience for our guests through strategic offerings exclusively offered to PJS Rendezvous Jet Card Program."
Jackson Hole lures in thousands of visitors from around the globe who wish to experience its remote setting and gorgeous views. Over the past 15 years, Private Jet Services has demonstrated the ability to consistently deliver air services in the most secluded locations. Through the Rendezvous Jet Card, PJS offers homeowners and visitors safe, convenient and hassle-free transportation to the Tetons.
"We are pleased to offer our Jet Card Members access to an exclusive portfolio of breathtaking properties," commented CEO of Private Jet Services, Greg Raiff. "After viewing Luxury Properties Jackson Hole's collection of exquisite vacation rental homes throughout Jackson Hole, we jumped at the opportunity to join forces. We are thrilled to add LPJH to our collection of partners in the community."
To learn more, please contact sales(at)pjsgroup(dot)com.
ABOUT PJS: Private Jet Services(PJS) is a privately held aviation consultancy and air charter services provider founded in 2003. In addition to its acclaimed Jet Card Program, PJS provides mission critical air services to professional sports teams and their athletes, presidential candidates, government agencies and many of the world's largest bands. The PJS culture is built upon a deep passion for aviation and obsessive attention to detail. The PJS team provides a level of service and safety unmatched in the private aviation industry.
ABOUT LUXURY PROPERTIES JACKSON HOLE: Elevate your lifestyle with Luxury Properties Jackson Hole. Luxury Properties Jackson Hole is a full service vacation rental, home caretaking, and lifestyle concierge firm, servicing the most discerning clients in Jackson Hole and around the world. As a rental guest of LPJH, we aim to elevate your Jackson Hole experience with our portfolio of exclusive properties and uncompromising level of service. As a LPJH homeowner, we will effectively present your home in every facet of property management to ensure that your time in Jackson Hole is pure enjoyment, free from the responsibilities of home ownership. Contact us today to discuss your vacation rental and property management needs!