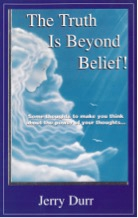 Sometimes it's not what you believe that's important, it's what you stop believing that's important
NEWBURY PARK, Calif. (PRWEB) February 01, 2018
Within the pages of Jerry Durr's new book, The Truth is Beyond Belief! readers will find contemplative thoughts artfully arranged to resonate with their experiences. Meant to live in their space alongside them and inspire unique perspectives of everyday moments, Durr's work will pull readers into a deeper understanding of life. For those who are ready to earnestly seek more meaning and purpose, The Truth is Beyond Belief! contains a variety of thoughts afforded to take the truth seeker on a wonderful path towards changing the way we all see the world.
"Sometimes it's not what you believe that's important, it's what you stop believing that's important," states Durr. "Truth doesn't really care what you believe because it stands on its own, untouchable, beyond your beliefs (in life's seeming imperfections) and until you can set aside those temporary beliefs you will remain blind to life's immense miraculousness. The physical world, from the atomic structures to the peacock's plumes, has always been so perfect. My hope is to help the reader realize that the seemingly imperfect parts have been the mental constructions of their own mind. May the reader finally come to see that 'the Truth that sets us free' is that it is only our illusions that have ever imprisoned us."
About the Author
Jerry Durr was born in the simpler days of the 1950s and grew up in the psychedelic 1960s, with the great fortune of natural curiosity and exposure to the great teachers of our time. His career in engineering working with electronic transducers was the unlikely inspiration for his perspective on how we all use our bodies to bring our non-physical thoughts into physical reality. For more information about the author, contact JerryDurr(at)aol(dot)com.