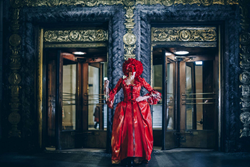 (PRWEB) January 29, 2018
Traditionally held on the night before Lent begins, Mardi Gras is a dazzling celebration of sin and decadence. Although, the tradition dates back to ruling House of Bourbons, which ruled France, Spain, and Italy for centuries.
This year, the theme echoes a Venetian masquerade ball similar to the Mardi Gras held in Italy, featuring intricate masks that fashions a mysterious and sensual veil of anonymity. Building on Club La Voûte's expertise in hosting extravagant events, they're creating a detailed universe that will transport you back to the Grand Canal of Venice.
Their last Halloween event was a major success and drew in large crowds from across the city. The big bash was a four-day event and had several themes that immersed their guests into a creative and sensorial atmosphere. It quickly sold out and solidified Club La Voûte's reputation as the leading nightlife venue in Montreal.
For Mardi Gras, partygoers can expect resident DJs Evangelos Pavlis and Andrew Pololos to provide the best house music in the city and keep the party going until the wee hours of the morning.
Tickets for the event can be purchased here: https://clublavoute.tixi.ca/
Club La Voûte operates out of the two old vaults that once belonged to the Royal Bank. The historic building situated on St. Jacques Street is inspired by neo-classical architecture infused with modern elements creating a unique ambiance. The venue has gained recognition as the leading hotspot in the city, which regularly hosts sold-out signature events, and caters to the corporate at private sectors.