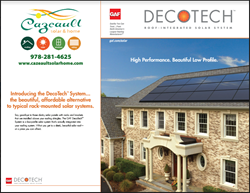 We are so pleased to bring this newest technology to homeowners in Massachusetts.
GLOUCESTER, Mass. (PRWEB) January 30, 2018
Another First for Cazeault Solar and Home – DecoTech Comes to Massachusetts in the form of a GAF Roofing system. On November 29, 2017, Cazeault installed the very first GAF DecoTech Solar System in Massachusetts at the home of Peter and Dawn Noble in Gloucester, MA. Peter is the co-owner of Noble and Orlando Painting Contractors and Dawn is the owner of La Provence, a specialty shop in Rockport, MA.
"I did a lot of due diligence and studied the solar contractors available and I selected Cazeault Solar and Home based upon their reputation in the industry. We love the look of DecoTech" says peter Noble.
Founded in 1886, GAF is the world's largest roofing manufacturer. DecoTech is GAF's integrated Solar Roofing System. The system sits directly on the roof and requires no rails or shingles underneath. DecoTech also has a GAF Golden Pledge warranty of 25 years for production and workmanship. The system has a low-profile design with high performance technology. The DecoTech Solar System is highly durable, and can both maximize and monitor electrical power output.
"We are so pleased to bring this newest technology to homeowners in Massachusetts, and we are blessed to work with fine people like Peter and Dawn on this great investment. This technology makes so much sense and is such a great investment if a homeowner needs a new roof. Not inly is their new roof saving money but it is also making money for the homeowner" says Tim Sanborn, Co-owner of Cazeault Solar and Home.
Cazeault Solar and Home is based on Cape Ann, with offices that span between Gloucester, Plymouth, and Osterville, MA. As part of the Paul J Cazeault and Sons Roofing Family, Cazeault has been serving Southeastern Massachusetts homeowners since 1927. They offer different methods of solar installation to best suit your needs, and friendly, fast service that's always guaranteed in writing. Over 85 years of experience has earned them a leading reputation which is backed up by stellar customer reviews and testimonials.
"From our initial meeting with Evan through the final installation – the entire process was incredibly easy. Any questions were easily answered with a quick call to Evan. We still can't believe the entire install took just one day. Our only regret is not calling Cazeault sooner!" says Dawn Noble.
From start to finish of any job, Cazeault Solar and Home will keep you informed, involved, and up to date on the most recent and beneficial solar technology. For more information please call Cazeault Solar and Home at 844-765-2746 or check out their website.