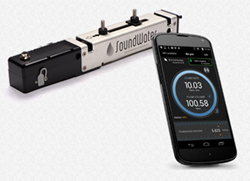 By focusing on measurement quality and plug-n-play design we are helping customers get better data, faster, and with less hassle.
WENATCHEE, Wash. (PRWEB) January 29, 2018
SoundWater just made flow metering in process automation much much easier. Promptly measuring the flow of water has traditionally been anything but a picnic—until now.
That's when SoundWater Technologies, LLC, based in Wenatchee, Washington, began shipping a new kind of fixed installation flowmeter called the Orcas SP. Orcas SP, is much more than just a flowmeter, it connects with any process automation system with 4-20 mA, pulse or serial data capability. It also sends data wirelessly to nearly any mobile device, and with its unique all-in-one design promises to help technicians integrate their system with much less hassle than has been possible before.
Orcas SP combines several advanced technologies in a new way to enable rapid measurement and analysis of flow inside a pipe without any cutting or drilling. Ultrasonic sound waves (inaudible to the human ear) are used to reveal the flow rate inside. Traditionally, measuring flow in a pipe required cutting the pipe, installing an in-line meter, and welding everything back together—a slow, tedious, and costly process.
The four-pound sensor—the device that sends and receives ultrasonic waves—is readily attached to the outside of a pipe. Then the technician uses the companion Orcas app on an Android or Apple iPhone to setup the flowmeter. The all-in-one design makes the flow meter wireless eliminating the tangle of transducer wires required with conventional flow meters. Need an upgrade? Its smartphone-based app is capable of delivering new features and upgrades to the flowmeter - users always have the latest signal processing and analysis capabilities.
"The old way of metering hasn't changed in 20 years. Standard flow meters can be a hassle to setup," says SoundWater CEO Jeff Peery. "You have to shut your process down, cut pipe, weld flanges—it requires four hands to do it and is expensive. Then the programming process is typically an endless set of cryptic menu options—I knew there was a better way—it should be intuitive so users can get their job done quickly."
The Orcas SP also integrates seamlessly with the Ayyeka Wavelet—a cellular telemetry device for transmitting data to the Cloud. Together the Orcas SP and Wavelet allow SoundWater users to easily access their flowmeter data from any web interface.
"Orcas SP and Wavelet is the best plug and play flow solution out there," says Peery. "Flow measurement is essential for many businesses and municipalities. By focusing on measurement quality and friendly plug-n-play industrial design we are helping customers get better data, faster, and with less hassle."
The Orcas SP flow meter is manufactured in Wenatchee WA., U.S.A. and can be purchased through distribution channels or directly from the company. Inquiries can be directed to Mr. Peery.
SoundWater Technologies, founded in 2013, is a an acknowledged leader in the flow metering industry. Building on more than 50 years of combined flow metering and ultrasonics industry experience, SoundWater Technologies designs and develops reliable, durable, easy-to-use fluid and flow sensing devices that help businesses, municipalities, technicians, installers and researchers get their jobs done more quickly, easily and accurately.
SoundWater Technologies is committed to fair business practices, local manufacturing, family and integrity, and giving back to both our community and the natural environment.
Contact: sales(at)soundwatertech.com Telephone: 1-509-899-7838