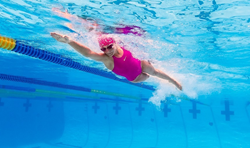 Nike Swim Camps provide campers the opportunity to train with some of the most respected coaches in the nation.
SAN RAFAEL, Calif. (PRWEB) January 26, 2018
This year, US Sports Camps is excited to host 35 competitive swim camps at various locations across the country for boys and girls ages 9-18.
Nike Swim Camps offers outstanding coaching by motivated, energetic camp directors and staff whose mission is to take every step possible to stimulate a love for swimming in a positive and healthy environment.
"Nike Swim Camps provide campers the opportunity to train with some of the most respected coaches in the nation," says Paul Merrion, Vice President of US Sports Camps. "Our program directors provide an exceptional camp experience, enabling each swimmer to build confidence and improve their technique."
Nike Swim Camp locations include: Tucson, AZ; Berkeley, CA; San Diego, CA; San Anselmo, CA; Santa Cruz, CA; Palo Alto, CA; Boulder, CO; Greeley, CO; Fairfield, CT; Carbondale, IL; Muncie, IN; Baltimore, MD; Easthampton, MA; Hillsdale, MI; Kalamazoo, MI; Lake Tahoe, NV; Durham, NH; Ewing, NJ; Binghampton, NY; Rochester, NY; Stony Brook, NY; Norman, OK; Corvallis, OR; Portland, OR; Latrobe, PA; Pittsburgh, PA; York, PA; Denton, TX; Murray, UT; Burlington, VT; Seattle, WA; Walla Walla, WA; Appleton, WI.
At each camp location, swimmers receive concentrated instruction on all four strokes along with starts and turns. Upon arrival, campers are placed in groups with other swimmers that have similar abilities and goals. Camp staff attempts to accommodate all campers needs, taking into consideration experience and desire to improve.
USSC is also proud to partner with Peak Performance Swim Camp which offers weekend clinics and full week camps in the Winter, Spring, Summer, and Fall. Over 30 technique swim camps and clinics are conducted annually across the USA and internationally. The camp's one-of-a-kind holistic training approach and positive coaching style is the creation of Coach Nick Baker, Founder and Head Coach of Peak Performance Swim Camp.
For those competitive swimmers who also love to play water polo, USSC offers Nike Water Polo Camps. Directed by USA Olympians and college coaches, Nike Water Polo Camps are designed to provide the highest level of individualized coaching for aspiring water polo athletes. Open to all ability levels camps will focus on position specific training for drivers, shooters, goalies and 2-meter O&D.
Coaches, Parents, and Campers interested in the 2018 Nike Swim Camps can visit http://www.ussportscamps.com or call 1-800-645-3226 FREE.
About US Sports Camps
US Sports Camps (USSC), headquartered in San Rafael, California, is America's largest sports camp network and the licensed operator of Nike Sports Camps. The company has offered summer camps since 1975 with the same mission that defines it today: to shape a lifelong enjoyment of athletics through high quality sports education and skill enhancement.