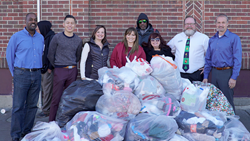 LONE TREE, Colo. (PRWEB) January 26, 2018
Public Service Credit Union (PSCU) delivered 7,238 pairs of donated socks to several Colorado homeless shelters in December 2017.
Why socks? Socks are the #1 most requested clothing item, according to the Salvation Army. Last year, PSCU collected more than 3,000 pairs of socks. This year, the Colorado credit union successfully doubled that amount during their Annual Sock Drive, November 17 through December 16, 2017. Donations were collected at all 29 PSCU locations throughout the Front Range.
"We couldn't have done this without the generosity of our members and the compassion of our staff, who rallied together to provide a little extra warmth for those in need during the holiday season." said Malcolm Johnson, Director of Public Relations and Community Involvement at PSCU. "With the help of our team, we were able to distribute the socks to homeless shelters in Fort Collins, Denver, and Colorado Springs."
Watch the deliveries take place in the PSCU Sock Drive video.
ABOUT PUBLIC SERVICE CREDIT UNION (http://pscu.org)
Public Service Credit Union (PSCU) has been safe, secure, and insured for the past 80 years. Today, PSCU holds assets in excess of $2.2 billion and has more than 225,000 members. PSCU provides a full array of financial products and services, including savings, checking, loans, mortgages, and online and mobile banking options. Members can access their accounts and conduct transactions at PSCU's 28 branches, and at over 200 shared branch locations throughout Colorado. In addition, through the credit union's partnership with the CO-OP network, members have surcharge-free access to more than 30,000 ATMs across the country.