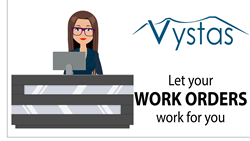 issue and track work orders
ORANGE COUNTY, Calif. (PRWEB) January 29, 2018
Vystas announces the release of its new work order solution for the hospitality industry. Room number, description and photos are entered on an iPhone, iPad or Android device. Work orders are then generated as a PDF and sent to the engineering, service or maintenance department. The work order data syncs with the online cloud database. Supervisors, engineering and service staff view progress on each work order using a web-based portal. As work orders are completed, room availability is updated. In addition to hotels, the work order software is also designed for engineering, service and maintenance use at resorts, casinos, offices, schools and public facilities.
Work Order Software Functions

Take photos and notes of issues and list hotel room number or other location
Generate work orders from mobile phones/tablets
The App functions offline, without the need for Wi-Fi or data connectivity
Assign work orders to individuals or departments (engineering, service, maintenance, plumbing, electrical, etc.)
Work orders are auto stored on web-based cloud system
Track status of each task or work order online and update room status
Online/Web, cloud, SAAS subscription and offline mobile solutions
Preventative maintenance
About Vystas
Vystas (YouTube channel) provides a suite of hospitality software tailored to the unique needs of hotels. The hotel inspection app includes a customizable checklist for iPhone, iPad or Android. Hotel quality standards are maintained with the hotel housekeeping inspection and QA audit software. The maintenance solutions include work order generation and preventative maintenance tracking/scheduling modules. The mobile apps work even without a connection. Reporting functions are web/cloud based.