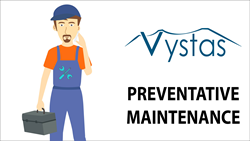 schedule preventative maintenance tasks
ORANGE COUNTY, Calif. (PRWEB) January 26, 2018
Vystas announces the release of its new preventative maintenance software for the hospitality industry. Hotel maintenance and service items are scheduled online, via the web-based maintenance management software. Completed service tasks are checked off using a mobile app for iPhone, iPad and Android devices. Equipment is identified and tracked on the cloud using the asset management software.
Preventative Maintenance Software Functions

Equipment ID and tracking
Calendar for PM task scheduling and periodic service
Assign preventative maintenance tasks to individuals or departments (engineering, service, maintenance, plumbing, electrical, etc.)
Alerts to maintenance staff for upcoming task
Maintenance supervisors alerted of past due items via online dashboard
Identify trends and preempt issues
Hospitality - Apply to hotel rooms, common areas and grounds
General Use – Office buildings, schools and public/government facilities
Cloud-based reporting
Mobile app (iPad, iPhone, Android) to log activities
Communicate between maintenance, housekeeping and management
CMMS – Computerized Maintenance Management Software
EAM – Enterprise Asset Management Software
Online/Web, cloud, SAAS subscription and offline mobile solutions
Generate work orders
About Vystas
Vystas (YouTube channel) provides a suite of hospitality software tailored to the unique needs of hotels. The hotel inspection app includes a customizable checklist for iPhone, iPad or Android. Hotel quality standards are maintained with the hotel housekeeping inspection and QA audit software. The maintenance solutions include work order generation and preventative maintenance tracking/scheduling modules. The mobile apps work even without a connection. Reporting functions are web/cloud based.