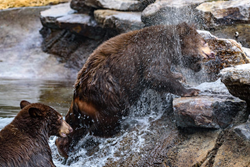 OAKLAND, Calif. (PRWEB) January 29, 2018
The first animal arrivals of Oakland Zoo's upcoming California Trail, a mother Black bear and her three cubs rescued last summer, have been successfully introduced to their newly-built, 1.5-acre habitat at the Zoo's new California Trail expansion, opening to the public in June 2018. The bears have been living temporarily in Oakland Zoo's veterinary hospital since last June while their new habitat was being constructed these past months.
Their expansive 1.5-acre Black bear habitat was completed earlier this month and the bear family took their first steps into it on January 13th, much to the delight of zookeepers and vet staff. The bears, tentative for the first few minutes, quickly appeared to be enjoying their new surroundings, exploring, playing, swimming and climbing trees. Zookeepers report that in addition to climbing their trees, the bears also like taking naps in them, in addition to their multiple dens. Black bears are known to be great climbers, not typical of all bear species.
While the public cannot yet see the bears in person until the June opening of California Trail, live-cams have been installed at the Black bear habitat and can be viewed immediately by all at: http://www.oaklandzoo.org/webcams - black-bear-cam
"Seeing our Black bears bounding through their new habitat that first day, exploring their new home, swimming, foraging, playfully wrestling with each other was such a great pleasure. Providing these bears a rich life in a complex natural habitat is what we set out to do, and I think we're doing a good job accomplishing that goal," said Heather Paddock, one of the primary zookeepers of the Black bears at Oakland Zoo.
In addition to their new habitat, the bears have 24-hour access to their night house, complete with shower features, five dens, skylights, and radiant floor heat.
Zookeepers stock the dens with hay for bedding, which on one night, the bears decided to push all into a single den so they could sleep together. The live webcams, viewable on the Oakland Zoo website, show the bears going out for what zookeepers are now calling 'midnight pool parties' as well.
***Media Advisory***
On Friday (January 26) from 11AM – 12PM, Oakland Zoo will be offering the media photo and video opportunities of the Black bears. A zookeeper will also be available for interviews during this time. If you plan on attending, please ARRIVE AT 10:45AM at the Zoo's Main Entrance, and contact Erin Harrison at eharrison(at)oaklandzoo(dot)org
Telling these bears' story in how they came to live at Oakland Zoo as a result of the human-wildlife conflict is and will continue to be an important conservation message to Zoo visitors. Oakland Zoo is collaborating with their conservation partner, the Bear League, in getting that message out to people.
As reported last June, this mother Black bear and her three cubs were fed by humans when living in the wild, and became accustomed and fearless of humans.
Following an incident of the mother inflicting human injury, the California Department of Fish and Wildlife (CDFW) picked up the bears and deemed the mother a public safety threat. Per the law, she was initially set to be euthanized by CDFW - her cubs also determined by CDFW to be ineligible for re-release as they were too habituated to humans. An exception was made by CDFW in this case, allowing them to be taken in by Oakland Zoo permanently.
"When bears learn to take advantage of humans, specifically our kitchens and trash cans, they become comfortable around us and make some folks nervous. Rather than securing these food sources, too often the answer is to destroy the bears. We are grateful this bear family was saved from that horrific fate and has instead been invited to live at the Oakland Zoo's wonderful new California Trail where they will help teach people how to responsibly co-exist with wildlife," said Ann Bryant, Executive Director, The Bear Leaugue.
The Black bear habitat in the Zoo's expansion site is intended to mimic California habitat, educate visitors about wildlife in California and inspire people to take action for the future of the state's wildlife and resources.
ABOUT OAKLAND ZOO AND THE CONSERVATION SOCIETY OF CALIFORNIA:
Oakland Zoo, home to more than 700 native and exotic animals, is managed by the Conservation Society of California (CSC); a non-profit organization leading an informed and inspired community to take action for wildlife locally and globally. With over 25 conservation partners and projects worldwide, the CSC is committed to conservation-based education and saving species and their habitats in the wild. Oakland Zoo is dedicated to the humane treatment of animals and is accredited by the Association of Zoos and Aquariums (AZA), the national organization that sets the highest standards for animal welfare for zoos and aquariums. For more information, go to http://www.oaklandzoo.org