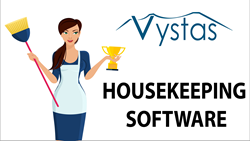 inspect housekeeping and track performance
ORANGE COUNTY, Calif. (PRWEB) January 30, 2018
Vystas announces new hotel housekeeping solutions. The software includes both standard and custom housekeeping inspection checklists tailored to meet the unique needs of each hotel. Reporting and management functions are online, cloud-based. Housekeeping assignments are scheduled and room status is displayed. Housekeeper performance is scored and tracked. The software is also designed for janitorial/custodial use at resorts, casinos, offices, schools and public facilities.
Hotel Housekeeping Software Modules

Housekeeping inspection checklist app for iPhone, iPad and Android
Hotel house keeping quality assurance (QA/QC) and audit software
Janitorial/Custodial inspection and reporting software
Housekeeper performance scoring
Housekeeper room assignments and scheduling
Online/Web, cloud, SAAS subscription and offline mobile solutions
Integrate with hotel PMS (Property Management System)
About Vystas
Vystas (Hospitality Software YouTube Channel) provides a suite of hospitality software tailored to the unique needs of hotels. The hotel inspection app includes a customizable checklist for iPhone, iPad or Android. Hotel quality standards are maintained with the hotel housekeeping inspection and QA audit software. The maintenance solutions include work order generation and preventative maintenance tracking/scheduling modules. The mobile apps work even without a connection. Reporting functions are web/cloud based.