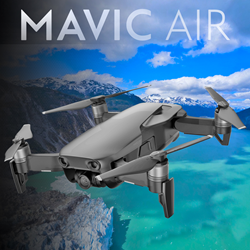 (PRWEB) January 26, 2018
The DJI Mavic Air Drone (see here) is the latest addition to the DJI family of drones, unveiled January 23rd with a full slate of exciting new features. Available in Blue, Red, and Black, this brand new aircraft is smaller than the original Mavic Pro, weighing just 430g (less than one pound), compared to the 1.62 pound weight of the Mavic Pro. But, it clocks in a smidge larger than the DJI Spark (0.6 of a pound). It flies faster than the Mavic, with a 42 mph top speed (Mavic-40 mph), and uses a video bitrate that is a full 40 Mbps higher than its Mavic Pro predecessor, an impressive 100 Mbps. A healthy smattering of new gesture controls, QuickShot camera modes, HDR photo capabilities, and image modes are also included in this eye-catching new drone. Other features include rear facing sensors, 8gb internal storage, a 21 minute flight time (vs Mavic Platinum's 30 minutes), and more! DJI Mavic Air Kit Bundles are now available to order at Drone-World.com.
Drone World is hard at work crafting a new boosted Maxx Mod proprietary remote system, smaller than any other boosted remote system for the Mavic series of drones. Until then, the Drone World Mavic Air Upgrade Kit is available for order, and the bundle that includes all of the standard Mavic Air accessories, plus a backpack, 32GB MicroSD memory card, battery bank, landing pad, free mini drone, and a DW lanyard will be shipping very soon! Other exciting Mavic Air Accessories are in the works by Drone World and are around the corner.
"We are tremendously excited to sell this new DJI Mavic Air. DJI has done it again - designed a new aircraft packed with plenty of upgrades that emulates the drones that have come before it," expressed Stephen McKenna, President and Founder of Drone World. He continued, saying, "The 100mbps video is especially impressive, and although its flight time is shorter than the Mavic Pro, the Mavic Air undoubtedly pack a punch."
Other notable characteristics include the 4K camera, stabilized on a 3-axis gimbal with dampeners to create shots that are steadier than ever before. The Mavic Air FAQ page is a great resource to learn about the many stellar aspects of this new drone, as is the Mavic Air Videos page, which showcases DJI videos detailing the specifics of the aircraft coupled with video reviews from seasoned drone pilots. You can find all of these pages plus DJI Mavic Air specs, faq, unboxing, etc (here).
About Drone World:
Drone-World.com is the Web's preferred destination for consumer and professional unmanned aerial drones, drone kits, and drone accessories. Drone-World.com combines superior customer service and know-how with over 5 years of drone experience and 10 years of web sales and service. They specialize in custom DJI Phantom & Mavic Pro bundle kits, including the highly popular DJI Phantom 4 Pro/+ Executive & Falcon Edition kits featured in RotorDrone Magazine as well as commercial use Inspire 2 kits, Osmo kits, Mavic Air kits, and more.
For more information contact:
(888) 901-3108
sales(at)drone-world.com