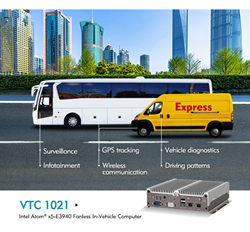 FREMONT, Calif. (PRWEB) January 30, 2018
The newly released NEXCOM in-vehicle computer VTC 1021 facilitates surveillance and operational efficiency, bringing public transit and fleet management into the smart era. Based on Intel Atom® x5-E3940 processor, VTC 1021 represents a versatile solution that combines strong computing power, dual PoE ports, major flexibility, wireless communication and GPS tracking, allowing it to record locations, internal activities, driving patterns and vehicle diagnostics for a greater level of surveillance, safety, management and infotainment.
VTC 1021 revamps public transit with enhanced surveillance and on-board infotainment. The two PoE ports can be used to easily install and replace IP cameras in any type of bus to record every activity. In addition, three mini-PCIe slots allow the addition of more cameras to satisfy different vehicles' needs. In tour buses, the powerful VTC 1021 enables on-board Wi-Fi, plays movies, informs upcoming destinations, and handles payment, aiming to create a joyful and hassle free ride for passengers. For increased safety in buses traveling long-distances, a DIO command can be programmed to request technical or medical assistance.
Dedicated for on-road transportation, the in-vehicle computer brings operational efficiency to fleet management. Installed in minivans, the in-vehicle computer with GPS and wireless communication provides managers a secure real-time tracking of goods and remote update to drivers on the road, with optional Dead Reckoning (DR) feature to pin the location if GPS signal is unreachable. Incorporating in-cabin cameras, the dispatch center can monitor goods in transit and driver behavior to improve fleet safety and performance. Likewise, optimal vehicle condition is achieved by evaluating engine speed, brake condition, and fuel consumption using CAN bus, with optional OBDII function.
The compact and fanless design of the in-vehicle computer VTC 1021 fits perfectly in cabins with limited space, withstanding extreme temperatures, humidity, vibration and impacts. Designed to resist demanding automobile conditions, the optional back-up battery ensures that every ongoing process is fully accomplished, stored, and uploaded to the cloud to secure operations and management regardless any unstable power supply.