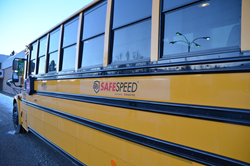 If you really want to reduce speeding and reduce the chance of school bus accidents and fatalities, you need to actually govern the vehicle. -Bob Morisset, President & CEO, MAGTEC
(PRWEB) February 06, 2018
After hearing about a Tennessee school bus crash that killed six children in 2016, a Canadian tech company had a big idea: We could apply the speed-limiting technology we use for trucking fleets to school buses, and help ensure a speed-related crash like that never happens again.
"We know the best way to keep kids safe is to keep school buses within posted speed limits, so we adapted our intelligent commercial vehicle technology in order to do that," says Bob Morisset, president and CEO, MAGTEC Products Inc., a vehicle control systems developer and manufacturer. MAGTEC got its start preventing Jeep theft during Operation Desert Storm, and has since designed systems used to prevent vehicle and cargo theft, speeding and more for fleets that transport everything from high-value pharmaceuticals to oil and gas. "Kids are really our most precious cargo, and that's why SafeSpeed in school buses is such a logical fit."
SafeSpeed harnesses advanced proprietary technology to automatically and proactively limit bus speeds according to posted speed limits in real time, and it's the only device of its kind.
"We knew from our work developing speed-limiting technology for the trucking industry that driver coaching only goes so far," says Morisset. "If you really want to reduce speeding and reduce the chance of accidents and fatalities, you need to actually govern the vehicle."
In a test pilot, SafeSpeed monitored the speeding trends of 10 school buses in a major Canadian city. A week prior to activating SafeSpeed, buses saw:

702 speed events 5+ mph over the speed limit
301 speed events 10+ mph over the speed limit
102 speed events 15+ mph over the speed limit
With SafeSpeed activated, those 10 buses saw:
90% reduction, 71 speed events 5+ mph over the speed limit
96% reduction, 11 speed events 10+ mph over the speed limit
99% reduction, 0 speed events 15+ mph over the speed limit
"The pilot showed us that more school buses than you might think are speeding. Drivers face a lot of pressure to meet schedules, but we know the only way to consistently and reliably reduce speed is by preventing acceleration over posted speed limits."
Currently, some bus companies employ passive speed monitoring tools such as cameras and alerts, but SafeSpeed is the only proactive solution that limits a school bus' maximum speed to match posted speed limits—and helps reduce injuries and fatalities caused by speeding school bus crashes.
Statistics show every kilometre increase in speed increases a driver's chance of accident by 2 per cent, serious injury by 3 per cent and fatality by 4 per cent1. In the Chattanooga, TN, crash, the bus was driving 50 mph in a 30 mph zone.
"We all want kids to return home safely at the end of the day, so we're encouraging families to ask their school boards to consider bus companies that have adopted SafeSpeed. For school bus contractors, SafeSpeed is a simple and affordable solution that can be offset by fuel savings, lower insurance premiums and reduced wear and tear. Saving kids' lives is just the start."
ABOUT MAGTEC
MAGTEC specializes in developing and manufacturing commercial intelligent vehicle control systems that help prevent theft, reduce speeding and enhance safety compliance for all classes of vehicles, including heavy equipment industries. One of its newest intelligent speed-limiting technology products, SafeSpeed®, is the only device that automatically limits school bus speeds to posted speed limits in real time. MAGTEC'S headquarters are in Calgary, Alberta, and the company operates two wholly owned subsidiaries, MAGTEC Products (USA), Inc. and MAGTEC Asia, Inc.
http://www.safespeed.ca