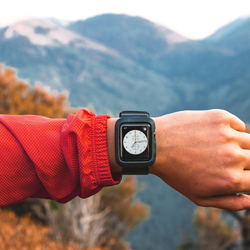 SALT LAKE CITY (PRWEB) January 26, 2018
Lander®, the creator of expedition-inspired mobile accessories, has channeled its outdoor design prowess with Moab™ Case + Band for Apple Watch —a ruggedized solution to protect Apple Watch while exploring.
"With the addition of GPS in Apple Watch Series 2 and LTE in Series 3, Apple Watch is quickly becoming a mainstream piece of outdoor technology," said Kasey Feller, Lander's brand manager. "The Moab Case + Band for Apple Watch naturally enhances the look and feel of Apple Watch, while protecting its classic design from unexpected scratches and dents that can occur when adventuring."
The Moab Case + Band for Apple Watch features an outdoor design aesthetic with a speckled texture finish, and also allows the watch itself to "nest" snugly within the enclosure. Collectively, the case and band are engineered to withstand the unanticipated variables of nature.
Paying attention to the details, the black reflective nylon band features a sturdy "Lander-branded" classic buckle that firmly and comfortably keeps Apple Watch in place. As the perfect wearable accessory for outdoor adventures, Moab Case + Band for Apple Watch features three signature qualities:
Reinforced case for full-impact protection
Waterproof-treated nylon band for longevity and comfort
Illumifind™ reflective band for added safety and locating
The Moab Case + Band for Apple Watch ($29.99) is compatible with Apple Watch Series 1/2/3 42mm, and can be purchased online at Lander.
About Lander
Lander creates expedition-inspired accessories for your journey, wherever it may take you. Inspired by its Rocky Mountain home, Lander accessories are made with innovative technology used in equipment carried by the world's best explorers. Lander offers an extensive line of cables, phone cases, backpacks and chargers—products designed for the explorer in all of us. For more information, visit Lander.
About Parent Company BGZ brands™
BGZ brands' mission is "to enhance our customers' lifestyles through branded products and services of elevated value and quality." Formerly known as BodyGuardz®, BGZ brands has become the powerhouse parent company of three distinct consumer electronic accessory brands—BodyGuardz, the ultimate device protection®; Lander, gear made modern™; and MOXYO®, modern accessories for you®. For more information, visit BGZ brands.