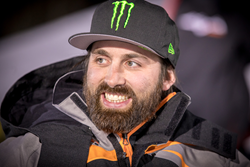 LaVallee and I go way back, we used to race nationals together, chasing podiums. I almost died on a hospital bed eight months ago, so to be here and do this – is insane - Brett Turcotte
Aspen, Colorado (PRWEB) January 26, 2018
What a way to start off an action-packed competition for Monster Energy's Snowmobile athletes: As the first official SMB event of X Games Aspen 2018, today's Snowmobile Speed & Style stoked the crowd with a high-octane blend of racing and freestyle. When all was said and done, Monster Energy's Brett Turcotte from Kamloops, Canada, took home his first career Gold in a down-to-the-wire final on the Snow Park Technologies-designed course on Buttermilk Mountain in Aspen, Colorado.
Returned tonight for the first time since the 2015 edition of X Games Aspen, Snowmobile Speed & Style is the ultimate test of versatility: Competitors attack the course head-to-head in bracket-style elimination rounds, with the top-scoring rider advancing. The winner of each match-up is decided by a compound score based on fastest time (Speed) and highest-scoring aerial stunts (Style). As a result, the faster rider may still be bumped from first place once trick scores factor into the equation – and nothing is decided until everything's decided.
Setting the bar high, this year's Snowmobile Speed & Style course revolved around two huge Super Kicker ramps with a 70-foot gap where riders claimed their Style points by landing spectacular airs. Race elements of the course included a smaller tabletop jump, banked turn, snow landing mound and an 80-foot snow-to-snow double jump, all of which riders needed to clear as fast as possible for their Speed scores.
Turcotte came out on top of the semi final match-up against Willie Elam with strong speed lines and even stronger aerials including a Seat Grab Backflip over the Super Kicker for an 87.93 point total score. Up next, Turcotte's Monster Energy teammate Cory Davis battled hard in the bronze medal battle against Willie Elam. With both riders trailing each other closely, Davis worked the corners with tight inside lines and blasted big airs such as No-handed Backflip and hyper-contorted Whip over the kicker. But ultimately, an 83.67 point total score against Elam's 85.50 left Davis with a strong fourth place finish in his 12th X Games appearance.
Tonight's final boiled down to a showdown between Monster's Brett Turcotte and seven-time X Games gold medalist Levi LaVallee. Straight out the gate, both riders went big over the Super Kicker with Turcotte blasting an extended Indy Flip and battled bumper-to-bumper through the corner for a lead position. Over the next jump, LaVallee pulled out a signature Cordova Flip, trumped in Style score by Turcotte's Super Flip. With LaVallee building an almost two-second lead, the night's winner came down to the final jump over the gap. No stranger to high-pressure situations, Turcotte landed a Kod Flip – a backflip performed hanging from the snowmobile's handlebar – ultimately earning a close 88.94 point win over LaVallee's 88.67 points to claim his first-ever X Games Gold medal.
"LaVallee and I go way back, we used to race nationals together, chasing podiums," said Turcotte. I almost died on a hospital bed eight months ago, so to be here and do this – is insane! I'm really stoked and have to two more events coming up. Hopefully we can get through Snowmobile Freestyle safe and healthy, and Snow Bike Best Trick is coming up as well. I have some crazy things up my sleeve."
Now that Speed & Style is a wrap, Turcotte and his Monster Energy teammates are preparing for tomorrow's Snowmobile Freestyle event. The stakes are high, as tonight's win puts Turcotte – who will also be competing in Sunday's Snow Bike Best Trick event – in the running for an X Games gold medal three-peat. It's a feat only achieved by three athletes in X Games history, and never at a winter event.
Snowmobile Freestyle also marks a chance for Monster Energy's Joe Parsons, the most decorated snowmobiler in X Games history with 17 medals, to earn another podium spot that would tie snowboarder Shaun White's record for most X Games winter event medals ever. And finally, there's the story of Heath Frisby's double backflip that almost ended with the first-ever competition landing at last year's X Games Aspen – and will continue this weekend. Thanks for following Monster Energy at X Games Aspen today and stay tuned.
Download photos for editorial use.
ESPN and ABC will televise a combined 15.5 hours of live X Games Aspen 2018 coverage, which will also be accessible via the ESPN App to viewers who receive their video subscription from an affiliated provider. Additional coverage of sports and music will be carried on ESPN3 as well as the latest coverage across ESPN digital platforms, including XGames.com, the X Games App, and X Games pages across YouTube, Twitter, Facebook, Instagram, Snapchat and more.
Visit http://www.monsterenergy.com for exclusive updates from X Games Aspen 2018 including photos, videos, and contest results as they happen. Follow Monster Energy on Facebook, Instagram, Twitter for exclusive behind-the-scenes looks in Aspen
###