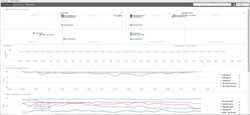 "Performance and Trending has the capabilities to track, score and rank applications, pinpoint critical interfaces and discover the leading applications in the IT environment to give users a breadth of knowledge over the impact of changes in their respective environments."
ASHEVILLE, N.C. (PRWEB) February 07, 2018
RISC Networks, a leading provider of IT discovery and analytics, is pleased to announce the release of its new Performance and Trending module. The module, which is an add-on to the RISC Networks' Foundation module, delivers 360-degree insight into the daily performance and health of the application stacks and devices within an IT environment. The rich historical trending capabilities of Performance and Trending offer IT teams the ability to easily identify the changes being made in their environments and discern their overall health and performance.
Utilize the Performance and Trending module to:

Understand which applications need attention and which are operating as expected
Track trends over time
Understand the impacts of changes in IT environments
Use quadrant views to prioritize which applications are most important and need the most attention
Use device-level metrics to troubleshoot the root cause of problems
"Cloud and Data Center Transformation is a continual process. There is no final destination. Once applications have been migrated to a cloud environment or new data center, the process of validation and continual optimization continues. The Performance and Trending module gives you the information to understand whether or not your applications are performing better after the move and allows you to identify areas for improvement," said Jeremy Littlejohn, Chief Architect and CEO of RISC Networks.
Performance and Trending gives IT teams the ability to validate the ROI of their cloud-migration projects by tracking applications once they are in the cloud to show that any on-premises issues have been eliminated, costs have been fully optimized, and communication to other resources continues to function properly. Additionally, Performance and Trending has the capability to track, score and rank applications, pinpoint critical interfaces and discover the leading applications in the IT environment to give users a breadth of knowledge over the impact of changes in their respective environments.
The scope, scale and tracking of Performance and Trending empowers any user with the ability to quickly identify the result of changes made in their IT environment. Save valuable company time and money by having a high-level understanding of how applications, application stacks and devices are performing. Allocate resources efficiently and understand the impact of changes made within your IT environment with RISC Networks Performance and Trending Module.
About RISC Networks
RISC Networks is 100% independent, platform agnostic and self-funded since 2007. The RISC Networks vision is to unlock business potential by delivering more meaningful data analysis and providing information that helps IT leaders take immediate action. RISC Networks is the industry's leader in cloud, data center and network operations analytics with more than 11,000 analytics engagements and hundreds of industry leading solution partners. The company is headquartered in Asheville, NC.
# # #