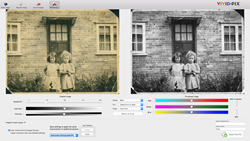 "We're excited to join RootsTech and share how our software can improve family photo memories and historical documents,'" says Rick Voight, CEO, Vivid-Pix.
ALPHARETTA, Ga. (PRWEB) February 28, 2018
Vivid-Pix, the inventor of easy-to-use image-improvement software, has expanded its portfolio with the release of Vivid-Pix RESTORE for Mac. The software, available for Mac and Windows, provides one-click improvement to scanned images from prints, slides, and documents and is now available for $49.99 from the Vivid-Pix website and from select resellers. Vivid-Pix RESTORE also improves digital camera and smartphone pictures.
Due to light, heat, humidity and other conditions, the dyes in photo prints and slides fade over time - even those printed recently on modern equipment. Applying patented image science, Vivid-Pix RESTORE revives these fading images to their original look and many will even look better than the day they were taken! The user can also fine-tune images with easy-to-use sliders to relive cherished memories.
A brief software overview video is available at: https://www.youtube.com/watch?v=eHyCkDLPsog
Vivid-Pix RESTORE software for Mac and for Windows will be available to view and to purchase at RootsTech, Feb. 28-March 3, in Salt Lake City, Utah. Vivid-Pix has partnered with Flip-Pal mobile scanner, Kindex, and Shotbox, to offer a comprehensive image-capture, improvement and sharing solution. Vivid-Pix will also be featured in the Innovation Alley section of the event.
The entire Vivid-Pix portfolio of easy-to-use software will be shown at booth 108A and 1305.
"We're excited to join RootsTech and share how our software can improve family photo memories and historical documents,'" says Rick Voight, CEO, Vivid-Pix. "Vivid-Pix RESTORE is suitable for professionals, hobbyists and amateurs."
"RESTORE improves scanned color slides and prints (including sepia), B&W photos, and even digital photos," adds Randy Fredlund, CTO, Vivid-Pix. "RESTORE software analyzes every picture, provides a correction based upon the requirements of that image, and with as little as one-click, your photo can display more color and clarity than when it was first printed. We've also included easy-to-use tools to fine-tune your images and to begin organizing your photos as well."
For more information about Vivid-Pix RESTORE, visit http://www.Vivid-Pix.com/restore.
About Vivid-Pix
Vivid-Pix is a partnership between Randy Fredlund, CTO, and Rick Voight, CEO, to design, create and deliver Fast, Easy Image Improvement Software. Since launching in 2012, Vivid-Pix has advanced its product to earn the support and respect of business leaders and photographers. Fredlund has more than 150 digital-imaging patents and has extensive experience in Research, Development and Commercialization, enabling him to translate theory into practice. Voight has created billion-dollar businesses through Product Development, Sales and Marketing for Eastman Kodak and Hewlett-Packard. The Vivid-Pix team is a far-flung group of excellent people who deliver software that "Give your pics the Vivid-Pix Fix!"
Vivid-Pix and the Vivid-Pix logo are registered trademarks of Vivid-Pix. All other trademarks are the property of their respective owners.