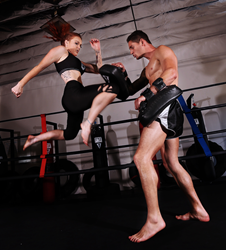 After adding KAV Encore® meal-replacement shakes to my daily routine, I've lost three pounds in just one week, so I'm a pound ahead of my weekly weight-loss goal.
BOCA RATON, Fla. (PRWEB) January 29, 2018
KAV Encore® Nutritional Shakes has added another heavy hitter to its growing roster of athlete endorsers, with women's MMA champion Jenae "Turbo" Noonan joining WBA super featherweight boxing champ Leo Santa Cruz as the meal-replacement shake company's frontline spokespeople.
In addition to adding Noonan, who has won bronze (2012 semi-contact MMA), silver (2016 semi-contact) and gold medals (2016 full-contact), KAV Encore® also is sponsoring Team USA as it prepares for the 2018 World Games.
In order for Noonan to get into prime fighting shape in her 125-pound weight class, she must drop 10-15 pounds, which isn't as easy a task in a person's mid-30s as it was in their mid-20s. Re-joining Team USA after a brief retirement, Noonan quickly realized she might need some extra help cutting weight, which is a common problem for fighters and grapplers of all ages.
"Being 35, it's not as easy to lose 10 pounds like when I was 21," said Noonan, a vegetarian who goes full vegan when training. "Normally all I do is my regimen, eat healthy and the weight comes off. Three weeks into training, I hadn't lost a single pound. I was like, 'How is this possible? How do I go from training four hours a week to training close to 20 hours, and not lose weight?'
"After adding KAV Encore® meal-replacement shakes to my daily routine, I've lost three pounds in just one week, so I'm a pound ahead of my weekly weight-loss goal."
Noonan found a KAV Encore® taste-testing booth among hundreds of other protein-shake companies in early January at TheFitExpo in Los Angeles, where she tried the company's chai shake. KAV Encore® Nutritional Shakes contain 21 grams of protein, 11 grams of fiber, 23-plus vitamins and minerals, Omega 3 fatty acids as well as pre- and probiotics. They come in five flavors: chocolate, vanilla, chai, coffee and matcha.
"I tried the chai protein and was like, 'Oh my god, this is amazing,'" Noonan said. "I struggle with the protein — I hate the protein — but I tried the chai and knew that I could get on board with this. I could drink this daily because I love chai lattes."
In addition to being a champion MMA fighter, Noonan is a former pro boxer, a model, actor, motivational speaker, women's self-defense instructor, child psychologist, best-selling author and the owner of her own publishing company, an amazing feat for someone who struggled with a learning disability (dyslexia) growing up.
A college soccer player, Noonan took up boxing, Brazilian Jiu-Jitsu and Muy Thai at age 21, training with UFC fighters Javier Vasquez and Gabriel Whitaker. She won her first pro boxing match in just 36 seconds.
In 2006 she injured her neck after taking a spinning back fist to the jaw during a match, separating her C2 and C3 vertebrae.
"My whole world came crashing down," she said. "I was 24 and told I'd never play soccer again, I'd never fight again."
But she was back in the octagon in 2012, the first year MMA was included in the World Games, winning a Las Vegas qualifier and nationals before going on to a bronze-medal finish in Sparta, Greece. Getting ready for the 2014 World Games, she separated her shoulder, sidelining her until 2015 when she began training again for the 2016 World Games, eventually winning silver and gold medals.
"Jenae has quite the interesting life story, vividly delivered in her best-selling book 'Fighter: Living Life Like a Champion.' She's really overcome a lot," KAV America AG, Inc. CEO Tak Lam said. "I'm proud to have her on the team because she's a tremendous role model and someone we can all look up to. And we're proud to sponsor Team USA for the upcoming World Games.
"We know KAV Encore® Nutritional Shakes can help them reach their weight-loss goals, and hopefully their gold-medal dreams."
Team USA's first event of the year is Feb. 23-25 at the Sydney Pankration Championships of the Pan Pacific Competition, featuring teams from Australia and New Zealand in pankration (MMA), no-gi grappling and no-head-contact kickboxing.
For more information on KAV Encore® Nutritional Shakes, visit http://www.kavencore.com.