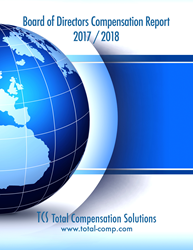 when total cash compensation and equity grants are combined the Insurance industry has the highest average compensation for Chairman and Regular Board Members
ARMONK, N.Y. (PRWEB) January 29, 2018
Board of Directors pay continues to rise at a rapid pace according to a study published by Total Compensation Solutions (TCS). Total cash compensation for the role of Chairman and the role of Lead Director in the Financial Services industry is out-pacing all others. However, when total cash compensation and equity grants are combined the Insurance industry has the highest average compensation for Chairman and Regular Board Members. Overall Board Chairs are receiving increases of approximately 10.5% per year. These observations are based on analysis of 1,278 public documents showing Board of Directors' compensation practices in 2017.
The annual study, which TCS has conducted since 2005, reveals that increases for the role of Chairman have outpaced inflation for the last ten years. These increases have been in the 8% to 10% range over that period and reflect the impact that changes in regulation have had on the time commitment required of the Chair position. This also reflects the impact of various 'watchdog' groups that continually challenge the compensation and governance of today's boards.
The study also reveals that 76% of the companies in this year's survey offer stock compensation to their board members. Almost 60% of these companies have minimum share holding requirements for Board members to tie their gains to those of other shareholders. The combination of cash compensation and stock compensation add up to a significant compensation package for the Board members who oversee some of the largest companies in the U.S.
The 2017/2018 Board of Directors Compensation Report reveals the compensation and governance practices of publicly traded companies in multiple industry groups (Banking, Biotechnology, Consumer Goods, Energy, Financial, Healthcare, Insurance, Leisure, Media, Technology & Transportation). TCS compiled data on these companies in late-2017 for use in the 2018 proxy season. This release of the 2017/2018 report affirms TCS's commitment to provide timely, accurate Board of Directors compensation information to its clients and subscribers.
Tom Bailey, Project Director and author of the study noted several additional points including:

37 percent of the companies combine the role of Chairman and CEO in spite of guidelines from shareholder groups. This is a modest reduction from previous studies.
42 percent of the companies report having a lead director and there is a strong correlation to companies with combined Chairman/CEO roles and the Lead Director position.
"There continues to be an increase in the amount of time the Chairman and other Board members are spending on board related responsibilities" Bailey notes. And, he adds: "There appears to be greater reliance on retainers to compensate Board members especially in the Finance and Insurance industries for this additional time commitment between formal board meetings."
Copies of the 2017/2018 Board of Directors Compensation Report are available from TCS (http://www.total-comp.com). If you have questions regarding this report, please call TCS at (914) 730-7300 or email questions to: Tom Bailey tbailey@total-comp.com or Paul Gavejian pgavejian@total-comp.com.
Total Compensation Solutions is an independent human resources consulting firm and a trusted advisor to numerous Boards, executives, and trade associations representing publicly traded and privately held companies throughout the U.S. TCS assists clients in achieving their strategic compensation objectives. The firm uses market data to identify best practices in a variety of topical areas including: board compensation; executive, middle management and staff compensation; incentive planning; board and executive assessment; and retirement benefits. From offices in Armonk, NY, TCS gathers and reports information and provides expert advice on the design of compensation and benefits programs tailored to each organization's unique set of circumstances. TCS provides comprehensive compensation consulting services to organizations in a variety of industries. For more information, visit http://www.total-comp.com or contact us at: