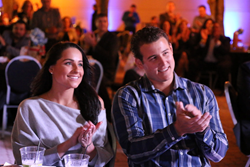 Anthony's dedication to his hometown of Parkland is truly amazing. WCI/Lennar is very proud to have been a part of this inspiring local event.
PARKLAND, Fla. (PRWEB) January 26, 2018
Over 250 South Floridians gathered yesterday evening for "A Night Under the Lights" fundraiser with World Series Champion Anthony Rizzo, presented by top South Florida homebuilder WCI/Lennar. The successful event raised thousands of dollars to help install modern lighting at the baseball field of Parkland's Marjory Stoneman Douglas High School, where Rizzo attended and to which he recently donated $150,000 to cover the first half of the project.
Held at the Coral Springs Center for the Arts, the elegant outdoor event began at 6 p.m. with a brief press conference with the Chicago Cubs' first baseman and an hour-long VIP reception. The main events followed from 7-10 p.m., which included a special Q&A with Anthony, silent and live auctions, an open bar, dinner stations hosted by local restaurants, dancing and more.
Anthony was charming, sincere and approachable, spending hours mingling with the bustling crowd, which included his family and friends, supporters of the school, as well as Parkland Mayor Christine Hunschofsky and nearly every city commissioner.
A recurring theme throughout the evening was how Anthony prioritizes giving back to the community. During the Q&A, a number of attendees stood up to thank Anthony for his humanitarian work, including one couple who shared a story about him spending over an hour with their son while he was in the hospital and greatly lifting his spirits. Anthony also inspired young fans at the event, who he advised to do well in school and follow their passion.
"WCI/Lennar was so pleased to see such an incredible turnout from the community for this exciting event," said Jon Rapaport, President of WCI/Lennar Palm Atlantic Division, the event's title sponsor. "It was amazing to hear from World Series Champion Anthony Rizzo about his experiences in professional baseball, as well as what he gained from his time in South Florida. Anthony's dedication to his hometown of Parkland is truly amazing. WCI/Lennar is very proud to have been a part of this inspiring local event."
A staple in South Florida, WCI/Lennar recently launched nearby Parkland Bay, a new luxury single-family home in the upscale city, with the full support of Parkland's City Commission. Centered around a 178-acre lake and offering resort-style amenities, the anticipated community broke ground last year with first move-ins expected this spring.
If you'd still like to donate to the "Lights on MSD" fund, please visit https://www.pledgecents.com/checkout/invest/ttpvmh.
About WCI/Lennar
Lennar Corporation, founded in 1954, has positioned itself as South Florida's #1 New Homebuilder by providing quality products, the best customer service and attention to detail throughout the entire process of purchasing your home. In 2017, WCI joined Lennar Homes, creating an exceptional duo of vast homebuilding leadership, knowledge and expertise for homebuyers to benefit from. Lennar/WCI offers more than 22 communities spanning Broward, Palm Beach, Treasure Coast, Brevard, and Escambia County. Each is built to the highest standards of quality and design, characteristics of the brand that is Lennar/WCI. Providing an exceptional customer experience and facilitating the home buying process are always top priorities. Lennar/WCI and its subsidiaries offer customers the full scope of all financial services, including mortgages, title, and insurance. Previous press releases and further information about the Company may be obtained at the "Investor Relations" section of the Company's website, https://www.lennar.com/.