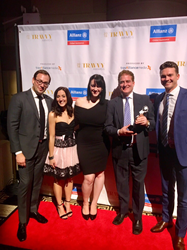 The service we provide is the difference between renting someone's house, and experiencing a memorable vacation in a private villa
Newport, R.I. (PRWEB) January 28, 2018
On Wednesday, January 24, 2018, travAlliancemedia announced the winners of its annual Travvy Award, recognizing travel companies that meet the highest standards of excellence in the industry. WIMCO Villas earned a TRAVVY for excellence in vacation rentals with concierge services.
"It is an honor for WIMCO to be recognized as a leader in the full-service vacation rental industry," said WIMCO president Stiles Bennet. "It's evidence that travel agents and their clients value the integrated hospitality experience WIMCO delivers. We pride ourselves on investing in one-on-one interaction with travel agents and their clients, getting to know their needs and wishes, finding the destination and then the villa that best meets those needs, and then making sure each part of their vacation is tailored to their specifications – from booking flights, to meeting them at the airport, to setting up exclusive experiences – like an in-villa yoga session, private chef, day trip to a private island or a guided vineyard tour."
WIMCO received additional accolades from travel agents and their clients recently for its management of villa reservations on those Caribbean islands impacted by the hurricanes of September 2017, and its leadership role in providing detailed up-to-the minute reports on the status of the tourism infrastructure, and the reopening dates of each villa on those islands.
The annual Travvy Awards—known as the Academy Awards of the travel industry—were held at Gotham Hall in New York City to recognize the highest standards of excellence in the travel industry by honoring travel companies, travel products, travel agencies, and destinations for their outstanding achievement. This year, over 100,000 votes—the largest voting block of travel agents in history—were cast to determine the 2018 Travvy Awards winners.
About WIMCO Villas
Recently featured on Bloomberg Travel, Forbes Life, Conde Nast Traveler, HarpersBazaar.com, the Today Show, and winner of Travvy and Magellan awards; WIMCO offers a selective and personally inspected collection of private villas in the Caribbean and Europe. Well-traveled Villa Specialists match clients with the right villa for their lifestyle and budget, and then arrange every aspect of their trip, supported by online itineraries for ease of access.
WIMCO's portfolio of private villas with concierge service includes properties on eleven Caribbean islands (including St. Barths, Turks and Caicos, Anguilla and Dominican Republic) and throughout Europe (including Tuscany, the Amalfi Coast, St. Tropez and Mykonos). Browse villas at http://www.wimco.com, or speak directly with a Villa Specialist at +1 (401) 849-8012. WIMCO also runs a real estate sales office on St. Barths listing many properties for sale. Inquiries for villa rentals or real estate sales may be sent to info@wimco.com