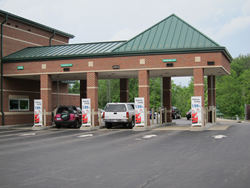 KALAMAZOO, Mich. (PRWEB) January 31, 2018
The BannerFlex GMS Messenger stand is a great solution for long-term outdoor ground signage. They are ideal for credit unions and bank drive through lanes. Just think about how many customers pass through bank drive through lanes every day! The GMS Messenger signs are an elegant, effective solution that allows for exterior retail signage. BannerFlex GMS Messenger outdoor stands are a great year-round way for banks and credit unions to communicate with customers. All standard GMS Banner Stands will accommodate both 48" long and 72" long banners and are available in four widths; 16", 18", 20" or 24" wide.
BannerFlex GMS stands and outdoor banners can be used to advertise specials and deals. Annual sales, trunk sales, close-outs, whatever the planned savings event, customers won't come if they don't know about it. Clearing out stock is good for the buyer and the seller, as long as word gets out about the sale. Another use is in promoting events being held at the business or events sponosored by the business using GMS stands. When hosting an upcoming event, GMS outdoor signs can help spread the word. Whether the event is at the business in question, or off site, GMS stands help to let customers know all about it. When sponsoring an event through another organization, outdoor signage will both promote the event and let customers know about the sponsors involvement. A third option is to sell the space to other businesses. In the case of banks and credit unions, individuals waiting in vehicles have little else to look at while waiting in line for their turn. Selling ad space to other local businesses can generate profits from otherwise unused outdoor space.
The BannerFlex® GMS Messenger stand is a great solution for long-term outdoor ground signage.They are ideal for credit union and bank drive through lanes. BannerFlex's popular banner stand, the Messenger GMS, can be used to convey important information about a bank or credit union's services, rates or policies.