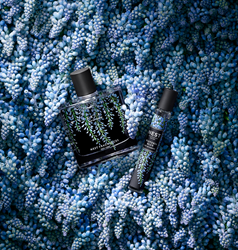 To complete Wisteria Blue, we added notes of imperial jasmine, Bulgarian rose, and fresh watery nuances. The end result is an exquisite fine fragrance that captures the ethereal beauty and artistry of wisteria
NEW YORK (PRWEB) January 30, 2018
NEST Fragrances, a leading designer and manufacturer of exceptionally crafted fine and home fragrances, today announced the debut of Wisteria Blue, an aquatic floral eau de parfum launching exclusively this week at Sephora. It is the eleventh eau de parfum created for the NEST Fine Fragrances Collection.
"I was inspired to create Wisteria Blue while walking through the Historic District in Charleston, S.C.," said Laura Slatkin, Founder of NEST Fragrances. "I came across a home that was covered in wisteria blossoms in the most extraordinary shades of lavender, blue and white; it was right then and there that I knew I had to create a wisteria fragrance."
Upon returning to New York, Slatkin knew immediately she wanted to collaborate with Givaudan senior perfumer Rodrigo Flores-Roux to develop the fragrance. "He is legendary in the fragrance industry, but I had not yet had the pleasure of working with him," said Slatkin. "When I got to his lab, Rodrigo shared with me an essence of wisteria. He said this rare essence was extracted from wisteria blooms adorning Petit Trianon, Marie Antoinette's home at Versailles. It was pure perfection."
Slatkin continued, "To complete Wisteria Blue, we added imperial jasmine and Bulgarian rose – notes Rodrigo calls the 'king and queen of any important floral fragrance' – and fresh watery nuances. The end result is an exquisite fine fragrance that captures the ethereal beauty and artistry of wisteria." As with all of her previous creations for the NEST Fine Fragrances Collection, Slatkin worked closely with widely respect Russian artist Alexander Solodukho, who painstakingly sketched and painted the original botanical artwork for Wisteria Blue's packaging.
Wisteria Blue is available for purchase in a 1.7 Fl. Oz. (50mL) eau de parfum spray for $72 and a 0.27 Fl. Oz. (8mL) eau de parfum rollerball for $27. The NEST Fine Fragrances Collection of eau de parfums is available for purchase now on Sephora.com and in all Sephora stores in the United States, Canada, Mexico and Australia. Wisteria Blue is available for purchase now on Sephora.com and in all Sephora stores on February 2.
To engage with NEST Fragrances on social media, follow the brand using the handle @NESTFragrances on Instagram, Facebook, Pinterest and Twitter.
About NEST Fragrances
NEST Fragrances the "Company" is a leading designer, manufacturer and marketer of exceptionally crafted luxury home and fine fragrances. The Company was founded in 2005 by fragrance authority Laura Slatkin; NEST Fragrances the "Brand" was launched in 2008 and celebrates its 10-year anniversary in 2018. The Brand boasts more than 20 home fragrance collections consisting of luxury scented candles and reed diffusers in several sizes, liquid soap and hand lotion, and the innovative Liquidless Diffuser™. In 2013, the Brand launched the NEST Fine Fragrances Collection, which today consists of eight fragrances available in eau de parfum sprays and roller balls, and luxury body cream. The Brand's products are sold primarily in North America through a growing wholesale customer network of luxury specialty department stores, beauty product stores, boutique stores and spas, and the Company's online flagship store NESTFragrances.com.