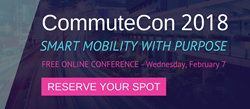 For TDM professionals, CommuteCon is one of the biggest events during the first quarter of the year.
SANTA MONICA, Calif. (PRWEB) February 07, 2018
RideAmigos is happy to announce its role as host of the upcoming CommuteCon 2018 transportation demand management (TDM) online conference. Established in 2015, the conference brings industry leaders, noted experts, and emerging innovators in the TDM sphere together to share ideas, discuss trends, and help shape the future of commuting. The event is scheduled for Wednesday, February 7, 2018, from 9:00 a.m. Pacific/12:00 p.m. Eastern until 2:00 p.m. Pacific/5:00 p.m. Eastern.
CommuteCon is the world's largest online conference for TDM and commuter management professionals. RideAmigos can already confirm that CommuteCon 2018 will be the best-attended in the history of the annual event. Hundreds of registrants from six continents have reserved their places, and RideAmigos expects total attendance to exceed 1,000 people for the first time.
For TDM professionals, CommuteCon is one of the biggest events during the first quarter of the year. Its speakers include world-renowned professionals and industry leaders, who provide comprehensive and insightful reviews of current and emerging trends in the TDM landscape, with strong relevance to a cross-section of sectors including business, education, and government.
"Smart mobility with purpose" is the theme for CommuteCon 2018. Presenters will be highlighting the successes of their recent research and initiatives, extracting and highlighting key lessons that point to an even more successful future. Keynote speakers include Simon Mainwaring, founder and CEO of the socially conscious branding agency We First, and Dr. Susan A. Shaheen, co-director of the Transportation Sustainability Research Center (TSRC) at the University of California, Berkeley.
RideAmigos CEO, Jeffrey Chernick said, "The CommuteCon team is grateful to this year's Sponsors, JUMP and Scoop; Friends of the conference, Car2Go, CityFi, Edenred Commuter Benefit Solutions, First Transit, Lyft Business, TransitScreen, Uber for Business, Waze Carpool, and Zipcar; and our Association Partner, the Association for Commuter Transportation for their involvement and their continued support for the TDM community."
CommuteCon 2018 is free to attend. Interested parties can learn more and register at http://www.commutecon.com.
#
About RideAmigos
RideAmigos, the host of CommuteCon 2018, is a Santa Monica, California-based software development company that produces advanced management technologies for the TDM industry.
In addition to its signature cloud-based commuter management platform, RideAmigos also plays a leading role in uniting members of the emerging TDM global landscape by organizing conferences, events, and professional development seminars. RideAmigos' core areas of focus include TDM automation, smart rideshare and carpool matching, program integration, and the use of strategically proven tools like incentive management and gamification to increase participation rates in TDM initiatives.