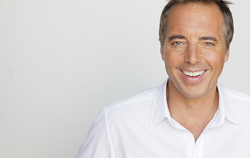 "To achieve happiness you need to ensure you have a 'balanced portfolio' in terms of your daily emotions, purpose and life satisfaction."
Minneapolis, MN (PRWEB) January 27, 2018
Dan Buettner, National Geographic fellow and Blue Zones founder, spoke at the World Economic Forum annual meeting at Davos this week. He shared his extraordinary findings on what drives happiness in individuals and countries, as well as how to use these insights to improve the well-being of large populations.
Amidst a crowd of world leaders, Nobel Prize winners, and industry titans, Buettner's presentation of his research on the longest-lived and happiest populations in the world received intense interest and was highlighted by the press as one of the best of Davos. His speech, which included global takeaways for improving lives and entire communities, was in keeping with the Davos 2018 theme of "Creating a Shared Future in a Fractured World."
This year's World Economic Forum report states, "Decades of prioritizing economic growth over social equity has led to historically high levels of wealth and income inequality." Their Inclusive Development Index measures nations using multiple metrics including GDP, employment, life expectancy, poverty, wealth inequality, and carbon intensity. The United States has the highest GDP of any country in the world, but it also has the second highest rate of poverty among the world's 30 most advanced economics. Overall, the U.S. ranked 23rd on the list of 30 advanced economies.
The World Economic Forum meeting takes place every January in Davos, Switzerland to address global issues. It includes over 3,000 participants from around the world and is attended by heads of state, C-suite executives, and other policymakers. Headline guests this year included President Donald Trump, Indian Prime Minister Narendra Modi, and French President Emmanuel Macron.
About Dan Buettner and Blue Zones®
Blue Zones employs evidence-based ways to help people live longer, better. The company's work is rooted in explorations and research done by National Geographic fellow Dan Buettner in Blue Zones regions around the world, where people live extraordinarily long or happy lives. The original research and findings were released in Buettner's bestselling books The Blue Zones Solution, The Blue Zones of Happiness, The Blue Zones, and Thrive—all published by National Geographic books. Using original Blue Zones research, Blue Zones Project® works with cities to make healthy choices easier through permanent changes to a city's environment, policy, and social networks. Participating communities have experienced double digit drops in obesity and tobacco use and have saved millions of dollars in healthcare costs. Currently, 42 communities in nine states have joined Blue Zones Project, impacting more than 3.3 million Americans nationwide. Blue Zones Project is an exclusive partnership between Blue Zones and Sharecare. For more information, visit bluezones.com.