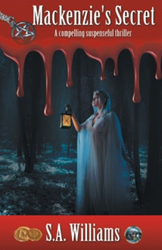 PHILADELPHIA (PRWEB) January 30, 2018
"Mackenzie's Secret" (published by Archway Publishing) by S.A. Williams is an able sequel to 2010's "Anna's Secret Legacy," an ambitious novel that is equal parts World War II love story and suspenseful espionage thriller in the vein of John le Carré. While "Mackenzie's Secret" brings readers back into the lives of her fearless protagonists, Doug and Anna Conyers, the plot revolves around another key character-their strong-willed 20-year-old daughter, Mackenzie – a resourceful woman who comes into her own at an all-girls boarding college in Paris 1969, one of the most volatile years in history.
Although "Mackenzie's Secret" is rooted in the same world Williams created for her first novel, the books are vastly different. For starters, "Mackenzie's Secret" picks up nearly 30 years after the events of "Anna's Secret Legacy." In addition, "Mackenzie's Secret" takes a much deeper dive into the emotional bonds that connect us all-the enduring relationships between lovers, between parents and their children, and among friends both old and new.
Differences aside, "Mackenzie's Secret" shares a lot of its predecessor's DNA: surprising plot twists, memorable characters and plenty of action-packed sequences that keep the reader turning pages. At the novel's outset, Anna is presumed dead following a tragic boating accident, leaving her family to pick up the pieces and carry on with their lives. Mackenzie becomes obsessed with finding the secret formula Anna had hidden away in "Anna's Secret Legacy" – and she's hardly the only on intent on tracking it down.
Throughout the novel, Williams takes the reader to places most American eyes will never see – hidden passageways beneath a Parisian chateau, or the rain-soaked streets of Laos in the aftermath of the Vietnam War, or the inside of a famed Gothic cathedral in Chartres, France. She writes these scenes so crisply that the setting becomes a character in itself. There's a good reason why. Although "Mackenzie's Secret" is fiction, much of the story was inspired by events Williams plucked from her own life.
"Mackenzie's Secret"
By S.A. Williams
Hardcover | 5.5 x 8.5 in | 270 pages | ISBN 9781480854642
Softcover | 5.5 x 8.5 in | 270 pages | ISBN 9781480854666
E-Book | 270 pages | ISBN 9781480854659
Available at Amazon and Barnes & Noble
About the Author
Having been educated in Brussels, Rome, Madrid, Paris and London, S.A. Williams was afforded the opportunity to earn her bronze, silver and gold medals from The London Academy of Dramatic Arts. A member of the Screen Actors Guild, Williams worked on the sets of films such as "The Age of Innocence," "Philadelphia," "The Sixth Sense," "Unbreakable," "How Do You Know," "Rocky Balboa," "Silver Linings Playbook" and others. Her credentials in global marketing and management from The Wharton School-University of Pennsylvania and from Harvard Business School. After working in radio and network TV, she founded a media-buying company out of the Philadelphia region, noted for the production of radio and TV commercials.
Simon & Schuster, a company with nearly ninety years of publishing experience, has teamed up with Author Solutions, LLC, the leading self-publishing company worldwide, to create Archway Publishing. With unique resources to support books of all kind, Archway Publishing offers a specialized approach to help every author reach his or her desired audience. For more information, visit http://www.archwaypublishing.com or call 888-242-5904.