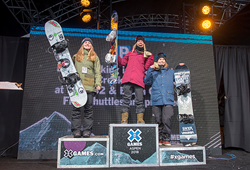 We always see so much progression here at X Games. I have to give it up to all the guys for coming out here and doing these crazy tricks - Max Parrot
ASPEN, Colo. (PRWEB) January 27, 2018
Monster Energy congratulates Jamie Anderson and Max Parrot for their Gold Medal runs at X Games Aspen on Friday. With her 14th X Games Medal, Anderson who previously won six straight silver medals in the event, won her fifth gold in Women's Snowboard Slopestyle. Parrot meanwhile, continues his dominance in Big Air with a repeat performance winning for a consecutive year, and adding a fourth X Games gold to his collection.
After some moderate snowfall early in the morning the Women's Snowboard Slopestyle finals were postponed a couple of hours due to visibility and speed concerns. After some test runs it was decided to continue with the contest even though a few of the women opted out of the competition, thus narrowing the field down to five riders. For Anderson however, there was a lot at stake and sitting out was not an option. With the Olympics just two weeks away the momentum gained today would prove as valuable as any gold medal.
Things started out rough though, as on her first run Anderson, anticipating a lack of speed due to the new snow, actually overshot the second jump and took a brutal fall attempting a frontside 720.
"My wax guy hooked it up and I ended up going way too big and smashed my face," she laughed afterwards.
As onlookers were unsure of if she would even take a second run, Anderson was silently tapping into the inner strength we've come to love about the 27-year-old from South Lake Tahoe.
"When I went back up I was pretty shaken up and just had to sit for a moment and get back into my focus mode... I had to find a way to get behind the noise of what just happened in my head."
And with that her second run proved phenomenal.
Flowing through the upper rail section with ease, she buttered on and off the rails effortlessly with tricks like a boardslide-to-270 off and a cab 270-to-270 off a small cannon rail. Now, speeding toward the first of three jumps she unloaded a cab double cork 900 flipping off axis through the cold Colorado air. With a clean landing, she then cautiously checked her speed before spinning a frontside 720 and preparing for the last showtime booter. Holding onto a solid run thus far, she then opted to keep it clean and threw down her signature backside 540 indy grab to complete her run.
When the scores came in at 94.00 it was immediately apparent that she would be taking home her fifth X Games gold in Slopestyle — her first since 2013.
"I didn't get my most technical run down," she said after the sore was announced. "But with the conditions and what I went through earlier I feel extremely good right now."
Later in the night the men took center stage as crowds gathered at the bottom of Buttermilk Mountain to see the guys fly upwards of 80-feet through the air off the perfectly sculpted jump for the Men's Snowboard Big Air event. And once again it was Canadian wonder-hucker Parrot who took home the gold for the second year in a row.
Against a stacked field of the world's best snowboarders, coming out on top was no easy feat for Parrot who had to dig deep into his bag of tricks to stay on top of the international talent. Wearing his signature all black, it was the combination of a cab triple cork 1800 backed up by a frontside triple cork 1440 that landed him on top.
With a combined score of 75.00 he beat out his nearest competition by two full points.
Asked about it afterwards the humble Parrot simply said, "It's just the best jump of the year, period."
"We always see so much progression here at X Games," he added, "I have to give it up to all the guys for coming out here and doing these crazy tricks."
These victories by Parrot and Anderson come hot on the heels of the XXIII Winter Olympics, which kick off February 9th in Pyeongchang, South Korea, and no doubt add invaluable confidence going into an event where the world will be watching. Parrot, who placed 5th at the Sochi Games in 2014 in Slopestyle, will not only look to improve on that as he laces up for Team Canada, but will also compete in the inaugural Snowboard Big Air event this year. Anderson meanwhile, who earned the first ever Women's Snowboard Slopestyle gold in 2014 for Team USA will look to defend her title as Olympic champion as well as make a podium run in the Women's Big Air event.
Download photos for editorial use.
ESPN and ABC will televise a combined 15.5 hours of live X Games Aspen 2018 coverage, which will also be accessible via the ESPN App to viewers who receive their video subscription from an affiliated provider. Additional coverage of sports and music will be carried on ESPN3 as well as the latest coverage across ESPN digital platforms, including XGames.com, the X Games App, and X Games pages across YouTube, Twitter, Facebook, Instagram, Snapchat and more.
Visit http://www.monsterenergy.com for exclusive updates from X Games Aspen 2018 including photos, videos, and contest results as they happen. Follow Monster Energy on Facebook, Instagram, Twitter for exclusive behind-the-scenes looks in Aspen
###
About Monster Energy
Based in Corona, California, Monster Energy is the leading marketer and distributor of energy drinks and alternative beverages. Refusing to acknowledge the traditional, Monster Energy supports the scene and sport. Whether motocross, off-road, NASCAR, MMA, BMX, surf, snowboard, ski, skateboard, or the rock and roll lifestyle, Monster Energy is a brand that believes in authenticity and the core of what its sports, athletes and musicians represent. More than a drink, it's the way of life lived by athletes, sports, bands, believers and fans. See more about Monster Energy including all of its drinks at http://www.monsterenergy.com