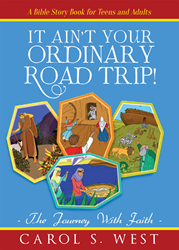 Harrisburg, PA (PRWEB) January 29, 2018
"It Ain't Your Ordinary Road Trip!" is a collection of Bible stories, written for both teens and adults, which details the incredible journeys of prominent Biblical personalities, as well as attempts to provide answers to any unanswered questions folks may have regarding them. "It Ain't Your Ordinary Road Trip!" is the creation of published author Carol West, who resides in Harrisburg, Pennsylvania. She is the third child of four, as well as the proud aunt of 42 nieces and nephews, their children, and their children's children! She was a member of The Singing West Family for many years and served in the field of evangelism for the Church of the Nazarene. Carol joined the Harrisburg Law Firm of McNees, Wallace & Nurick in 1979 where she worked as a legal assistant for more than 31 years. After retiring in 2010, the Lord directed her to begin writing, the end result being "It Ain't Your Ordinary Road Trip!" Carol is currently working on a children's edition of the book, and a second volume in the "Road Trip" series.
Carol credits "Mom," a minister and Bible scholar, for her love of God's Word. Throughout Carol's formative years, her mother, a first-class storyteller, told Bible stories in segments, sharing new details each time she related it. Combine the great story-telling with Carol's "one of a kind" imagination, and the stories came alive. "I helped Noah build the ark! I kept watch over baby Moses in his little basket as he floated on the Nile River. I even put Daniel in the lions' den and brought Joseph out, which is not an easy thing to do, but I was only four at the time! While family quickly placed me in line to be the next preacher or writer, it took more than 65 years for them to see their expectation realized. Actually, the only one surprised when 'It Ain't Your Ordinary Road Trip!' became a reality was me!" – Carol West.
Published by Christian Faith Publishing, Carol West's new book maintains that faith is never lacking in resources, that anyone can be used by God to accomplish His will. At the same time, faith is not a requirement to be used by God in His divine plan. "It Ain't Your Ordinary Road Trip!" provides powerful insights into how God led ordinary people, even those whom the world had rejected, in extraordinary ways to accomplish His plan.
Thinking outside the box, yet staying true to God's Word, "It Ain't Your Ordinary Road Trip!" assigns personalities, attitudes and emotions to its subjects in an effort to draw the reader into the Biblical stories presented. Readers will chat with Eve and discover she is more than just a pretty face. They will run with Moses from Egypt to Midian, where he discovers his one-way ticket is actually a round-trip one! Then, they will hang out with three Hebrew boys who refuse to bend, bow, or burn. Finally, readers will discover the possibilities are endless when Jesus shows up.
View a synopsis of "It Ain't Your Ordinary Road Trip!" on YouTube.
Consumers can purchase "It Ain't Your Ordinary Road Trip!" at traditional brick & mortar bookstores, or online at Amazon.com, Apple iTunes store, or Barnes & Noble.
For additional information or inquiries about "It Ain't Your Ordinary Road Trip!" contact the Christian Faith Publishing media department at 866-554-0919.