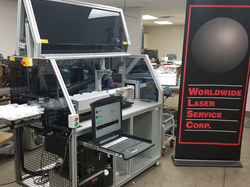 The mission of WLSC is to reduce manufacturing costs, protect consumers and products, and provide eco friendly green manufacturing systems through the use of laser automation
GILBERT, Ariz. (PRWEB) February 01, 2018
Worldwide Laser Service Corporation [WLSC] is pleased to announce the latest addition to our line of linear laser automation, this family of laser integration with linear belts can be used as stand-alone systems, tie into existing production belts and lines, be loaded and unloaded manually or with robots, articulated arms, or vacuum pick and place.
This new linear laser system integration features:

Dual vision camera to read product information for laser printing and also to read and verify the laser marking after completion
Automatic rejection station and collection bin for any parts that fail vision verification
Dual product sensors reading parts placement on the fixture and complete parts assembly prior to laser operations taking place
Human Machine Interface [HMI] screens which allow the operators to easily and effectively run the laser automation, key system and operations data are displayed on the main screen
Other features, functions and system configurations related to the linear line of new laser systems can be viewed at the video link above. The linear marking system family offers more options for the reduction or elimination of manufacturing problems by use of laser automation.
The Linear Laser System Automation line can be equipped any of the standard WLSC laser platforms
355nm UV, 532nm Green, 1064-1607nm FIBER, or 10600nm [10.6um] co2 and can be used for laser cutting, laser etching, or laser marking, with laser power from 10 watts to 500 watts.
The Mission of WLSC is to reduce manufacturing costs, protect consumers and products, and provide eco-friendly green manufacturing environments though the use of laser system automation.