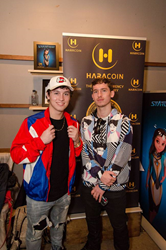 "Chatting with Grammy Award winner Usher about the music industry was one of the most awesome experiences I took away from my time at the Music Lodge." - Coleton Pickett of 3Dimensional
TAMPA, Fla. (PRWEB) January 28, 2018
Haracoin cryptocurrency has not launched yet but is already making an impact in the film and music industry, and 3Dimensional, a pop singing duo out of Florida rocked the house during the pre-ico launch party. 3Dimensional, a Tampa, Florida based pop duo, performed at the Haracoin cryptocurrency launch party at the 2018 Sundance Film Festival in front of multiple investors, celebrities, and movie studios. Working with multi-platinum record producer and film producer Andrew Lane, 3Dimensional is putting together music that will be considered for projects in which Haracoin plans to power feature film development, production and distribution.
Prior to the party, Haracoin, Inc gifted some of its cryptocurrency at the Music Lodge Gifting Suite to celebrities at the Sundance Film Festival. Some of those celebrities included JackBlack, Corey Feldman, Jon Hamm, Josh Duhamel, Maggie Gyllenhaal, Angelina Leo, Olga Safari, Simon Helberg, Garrett Hedlund, Haley Joel Osment, Rupert Everett, Simone Missick, Ed Oxenbould, Grammy Award winning singer Usher, and Grammy Award winning rapper Common. After 3Dimensional's performance and a preview of their emotionally charged song "Tears Hit the Ground" which addresses suicide, Haracoin gifted 3Dimensional with some of its cryptocurrency, adding them to the stellar list of celebrities who are privy to having pre-ico Haracoin cryptocurrency.
3Dimensional added to their 2018 Sundance Film Festival accolades by doing an interview with CCTV at the Music Lodge, chatting with Usher Raymond, taking photos with Idris Elba, and by being added to the roster of top social media agency Iconicreach.
"It was an honor to have Lee Baker, Director/Writer – "The Dome" invite my group, 3Dimensional, to such an exclusive event to perform. Not only was the 2018 Sundance Film Festival a fun and engaging experience, It was educational as well when we learned about the Haracoin and then were ultimately gifted Haracoin after the party." - Willie Stewart, Manager - 3Dimensional, - Amazon Best Selling Author - "taRNished."
"Chatting with Grammy Award winner Usher about the music industry was one of the most awesome experiences I took away from my time at the Music Lodge." - Coleton Pickett of 3Dimensional
About Haracoin, Inc.
Haracoin is a global leader in cyber currency technologies in the emerging markets of blockchain powered cryptocurrency which uses the Ethereum platform. A gold and corporate-backed cryptocurrency with the ability to be used as a medium of exchange worldwide that will bring stability to the growing cryptocurrency financial system. It is headquartered in Orem, Utah, and founded by an experienced technology, entertainment and lifestyles company with connections around the world. Stay connected with HaraCoin at http://www.Haracoin.com
About Music Lodge: The Music Lodge is one of the longest running celebrity hospitality lounges held during the Sundance Film Festival, which has been in continuous operation with Music & Media on Main St. since 2004 with many celebrities at Sundance attending each year.
About Cryptocurrencies: Cryptocurrencies started as a digital asset and are designed to work as a medium of exchange that uses blockchain technology to secure it transactions, control the creation of additional units and verify the transfer of assets. They are usually stored in an "e-wallet" online. According to Wikipedia, cyber currency has grown to over $750 billion in investment for the entire marketplace with over 1400 different cybercoins according to Coinmarketcap.com. Celebrities who have gotten into backing ICO's and crypto currencies include Paris Hilton, Floyd Mayweather and Jamie Foxx and other celebrities are getting involved according to CNBC.com. Lionsgate Studios has also indicated a move toward using Bitcoin as a cryptocurrency for some of their deals according to Steemit.com.
About 3Dimensional: 3Dimensional is a singing pop brother duo inspired by home state superstars such as DJ Khaled, O-Town, N'Sync, Florida Georgia Line, Backstreet Boys, Ariana Grande, Pitbull and Flo-Rida, The brothers are being referred to as the "Dynamic Duo" by many industry insiders. 3Dimensional writes and performs songs that have a fun and positive message. They cover topics such as love and relationships, parties, and many social issues like suicide.