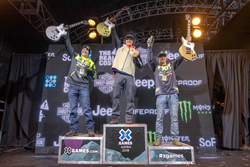 The switch from Snowmobile SnoCross to Snow Bike is definitely crazy. Even motocross to Snow Bike is a huge step. I've been riding the Snow Bike pretty much every day back home preparing for this. I'm still killing it at the SnoCross races, but I wanted to be ready for X Games - Kody Kamm
ASPEN, Colo. (PRWEB) January 28, 2018
Talk about a grueling race to the finish line. Today's Snow BikeCross event at X Games Aspen 2018 turned into a test of endurance under overcast skies on the challenging course at Buttermilk Mountain. Battling poor visibility and treacherous ice patches, Monster Energy's Kody Kamm claimed a podium spot with a strong Bronze medal finish in a 20-lap final race. This marks the third X Games medal for the 23-year-old from Kenosha, Wisconsin, who shared today's podium with Canadians Brock Hoyer (Silver) and Cody Matechuk (Gold).
Now in its second year as an official X Games event, Snow BikeCross attracts snowmobile racers and motocross athletes looking to trade dirt tracks for snow dust. Riders compete on motocross bikes transformed into snow bikes via custom conversion kits featuring rear-mounted track drives and skis for steering.
Designed by Snow Park Technologies, this year's Snow BikeCross course challenged riders straight out the gate with a tight and narrow 180-degree right-hand turn near the starting position. After threading the needle and battling for an early lead, racers had to navigate a series of technical moguls and steep turns, ending each lap with a huge jump near the finish line.
Today's heavily contested qualifiers narrowed the pack of 20 competitors to 12 finalists in two heats at 10 laps each. The formula for staying ahead of the pack consisted of building an early lead and finding a safe line away from the hidden patches of ice that spread across the course as the race continued. The ice took out one of the top seeds of today's race, four-time Monster Energy Super Cross winner Ryan Villopoto, who walked away unscathed from a crash but missed the final.
Making the cut into the 20-lap final race, Monster Energy's Kamm, Keaton Ward, Axell Hodges, and Josh Hill found themselves facing heavy competition, plus worsening track conditions and low visibility. Right from the start, Cody Matechuk edged into the lead, which he maintained all the way to the finish despite a fall on the 13th lap. Although a grueling 20 laps in length, today's race saw minimal movement between positions, as Brock Hoyer also commanded his second place from start to finish. Battling from behind, Kamm managed to lock in third place halfway through the final, ultimately finishing 22 seconds behind Matechuk's 11:42.981 winning time.
Upon earning Bronze in Aspen today, Kamm said: "The switch from Snowmobile SnoCross to Snow Bike is definitely crazy. Even motocross to Snow Bike is a huge step. I've been riding the Snow Bike pretty much every day back home preparing for this. I'm still killing it at the SnoCross races, but I wanted to be ready for X Games – and it paid off!"
Today's Bronze marks Kamm's third career Winter X Games medal after winning Silver in Snowmobile SnoCross at X Games Aspen 2015 and 2014. When Kamm learned that Snowmobile SnoCross would not be contested this year – the event was replaced by Snowmobile Speed & Style – he instantly called his sponsor for a snow bike conversion kit and began training.
His motivation was rewarded in December 2017 when he took second place at the X Games Snow BikeCross qualifier in Elk River, Minnesota, after only five days total riding a snow bike.
Now that Snow BikeCross is in the books, all eyes are on tomorrow's first-ever Snow Bike Best Trick event at an X Games. With a focus on spectacular aerials, Snow Bike Best Trick draws a field of the best freestylists from both motocross and snowmobile backgrounds. Monster Energy's line-up includes three-time Moto X Best Trick champ Jackson Strong from Lockhart, Australia. Strong will be joined by Monster Energy teammates Heath Frisby, recognized as one of the innovators in Snowmobile Freestyle with 11 X Games medals to his name, and Brett Turcotte. Having already won back-to-back Gold in Snowmobile Freestyle and Snowmobile Speed & Style at this edition of X Games Aspen, Turcotte is shooting for a first-ever Gold medal hat trick at a single winter event – so make sure to tune in tomorrow.
Download Photos for Editorial Use.
ESPN and ABC will televise a combined 15.5 hours of live X Games Aspen 2018 coverage, which will also be accessible via the ESPN App to viewers who receive their video subscription from an affiliated provider. Additional coverage of sports and music will be carried on ESPN3 as well as the latest coverage across ESPN digital platforms, including XGames.com, the X Games App, and X Games pages across YouTube, Twitter, Facebook, Instagram, Snapchat and more.
Visit http://www.monsterenergy.com for exclusive updates from X Games Aspen 2018 including photos, videos, and contest results as they happen. Follow Monster Energy on Facebook, Instagram, Twitter for exclusive behind-the-scenes looks in Aspen
About Monster Energy
Based in Corona, California, Monster Energy is the leading marketer and distributor of energy drinks and alternative beverages. Refusing to acknowledge the traditional, Monster Energy supports the scene and sport. Whether motocross, off-road, NASCAR, MMA, BMX, surf, snowboard, ski, skateboard, or the rock and roll lifestyle, Monster Energy is a brand that believes in authenticity and the core of what its sports, athletes and musicians represent. More than a drink, it's the way of life lived by athletes, sports, bands, believers and fans. See more about Monster Energy including all of its drinks at http://www.monsterenergy.com.