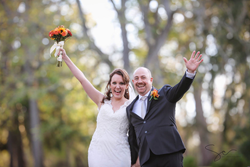 Romance in the Blue Ridge Mountains
WINCHESTER, va. (PRWEB) January 29, 2018
"Will you marry me?" These words set in motion for many brides and grooms the difficult and sometimes unpleasant process of planning a wedding. "How are we going to be able to have the wedding of our dreams and not break the bank?"
The good news is that wedding venues have quadrupled in the Shenandoah Valley of Virginia and West Virginia over the past several years. Just as there is a vineyard, brewery and now distillery around every bend in the road, the same could be said for wedding venues. With this news, brides and grooms today have many choices from formal ballrooms, rustic barns; beautiful manor homes to breathtaking mountaintops.
The wedding reception can consume the major part of one's budget so picking a venue wisely should be the number one concern. Reception sites set cost are based on what the venue is providing - tables, chairs, linens, etc. One way to make sure a venue fits into one's budget is to narrow the guest list - less people - less cost and the wedding of one's dreams is not sacrificed to feed people one truly is not close to. Probably the biggest change is the day of the week selected. Staying away from Saturday gives the couple more negotiation room and amazing price differences from both the venue and many of the wedding vendors.
Luxury venue options here in the valley have also increased with breath-taking properties that not only have luxurious accommodations including award winning spas but also five star food experiences. Check out luxury lodging on Go Blue Ridge Travel.
Perhaps the biggest trend in the wedding industry is "destination weddings." Extremely popular in the Caribbean, there are venues now in the Shenandoah Valley that are courting these brides and grooms although few make it a true vacation destination wedding simply because the venue does not have the amenities that are offered on the islands. A bride and groom have to be more creative by building an exciting itinerary for the guests.
Here are 15 of GoBRT's 30 top picks for 2018. All venues are an easy drive from DC! Click here to get the entire list.
Since affordable to one bride is not to another, a $ symbol is used to give one an idea of price.
Country Inns, Manor Homes, Bed and Breakfasts, Museums:
Charles Town, WV - Hillbrook Inn and Spa($$$)
Specializing in elopements and elegant small weddings as well as tented larger events in an European setting, experience tranquility and isolation one hour outside of DC. *GoBRT recommended
Berryville, VA - Historic Rosemont Manor ($$$) Escape from the ordinary at the historical Rosemont Inn, equipped with 60 acres of manicured grounds. This B&B is beautiful year round, and can accommodate overnight lodging for up to 75 guests!
Bluemont, VA - Highholdborne ($$$) A breathtaking venue with even more beautiful scenery surrounding it, this estate recently won 2017's WeddingWire Couple's Choice Award for good reason!
Event Venues:
Winchester, VA - Historic Jordan Springs ($$)
Dating back to the 1500's, an all-inclusive wedding venue offering exquisite design in Winchester, VA.
Hotels and Historic Signature Hotels:
Winchester, VA - The George Washington Grand Wyndham Hotel($$$)
Blending history and elegance, this restored historic property is a must visit for the wedding or the honeymoon within walking distance of Old Town Winchester. *GoBRT recommended
Front Royal, VA - Holiday Inn and Suites Front Royal Blue Ridge Shadows ($$)
Just off of Interstate 66 overlooking the Blue Ridge Shadows Golf Club.
Resorts:
Harrisonburg, VA - Massanutten Resort ($$)
Not easily available but a beautiful mountain location.
Basye, VA - Bryce Resort ($$)
Dream of taking a ski lift to the top of a mountain for your ceremony! *GoBRT recommended
White Sulphur Springs, WV - Greenbrier Resort ($$$$) A classically beautiful location complete with charm, etiquette, and great views! Offering activities for all members of your wedding party. The Greenbrier is a true wedding destinations able to compete with the Caribbean. *GoBRT recommended
From Barns, Farms to Mountaintops and More:
Harpers Ferry, WV - HF Adventure Center ($)
Voted #1 choice by 'Create A Wedding', a rustic setting overlooking the Potomac River with surprising sophistication. *GoBRT recommended
Luray, VA - The Luray Caverns ($) Go down in family history by hosting your wedding and reception in one of America's natural landmarks!
Mt. Crawford, VA - CrossKeys Vineyard ($$) With stunning, 360 degree views of the surrounding mountains and tuscan-style villa, CrossKeys is a great location for any event or ceremony.
Out of the Box Venues:
Winchester, VA - Bright Box Theater ($$)
Perfect for a dynamic wedding reception, funky rehearsal dinner, or imaginative after party, located on the Old Town Mall in Winchester.
Winchester, VA - Shenandoah Valley Discovery Museum ($)
Newest and most unique roof top setting. *GoBRT recommended
Winchester, VA -Winchester Brew Works ($) Set in the heart of Old Town Winchester, this unique brewery will allow you to rent out the location for your wedding and/or reception with the added bonus of a convenient location. *GoBRT recommended
'Out of the box' is about more than just unique wedding locations with four walls - imagine getting married on a canoe while drifting down one of the Valley's many rivers or maybe a fun-hearted hike to a mountaintop, with the trees and ridges as your wedding audience!
"We are fortunate here in the Blue Ridge to offer beautiful mountain scenery, a "don't rush" lifestyle, and great chefs dedicated to local resourcing. Our wedding venues offer such diversity in settings. If you and your partner inspire each other creatively, than there's no reason your wedding day shouldn't reflect that and here in the Blue Ridge you can create your dream wedding!" said Nancy Craun, Owner and Founder of GoBRT.
About BlueRidgeBride.com and GoBlueRidgeTravel.com:
Opening their first bridal show in 2004, Blue Ridge Bridal Show, a division of Encore Event Partners showcased wedding venues and professionals who live and work in this region. This clientele continually voice concern that their guests could not easily plan their travel vacation to the area only finding DC as a tourism attraction. In response to this, Encore Event Partners launched Go Blue Ridge Travel offering a guest trip planner for wedding guests covering 100+ mile radius of the Interstate 81 corridor between Charles Town, West Virginia and Harrisonburg, Virginia.
In 2013, Blue Ridge Bride was launched to expand the relationship between BRBS and GoBRT providing a targeted website for the bridal market wanting to both be married and to have romantic escapes and road trips in the Shenandoah Valley of Virginia and West Virginia.
Contact: Nancy Craun Founder and President BlueRidgeBride.com GoBlueRidgeTravel.com Phone: 540.533.1853 Email: info GoBlueRidgeTravel.com and Blue Ridge Bride at BlueRidgeBride.com.