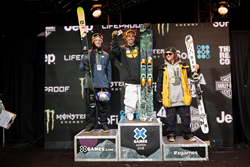 I am so grateful to have put the first one down. This feels so good! I've never had a victory lap; I am just so excited to win my first X Games gold - Maggie Voisin
ASPEN, Colo. (PRWEB) January 28, 2018
Monster Energy would like to give a huge congrats to Henrik Harlaut for earning his fifth X Games gold medal in Ski Big Air. Monster Energy teammates James Woods took bronze in Ski Big Air, and Maggie Voisin claimed her first X Games gold in Women's Slopestyle.
Voisin made history by becoming the first American female skier to win an X Games gold medal in Ski Slopestyle. The 19-year-old from Montana has been dreaming of this day throughout her entire ski career, and made it happen with her first run.
Under bright and sunny skies, Voisin unleashed a massive first run that included; back to front 270 combo on the first rail, switch 270 on the flat down, a back swap on the rainbow rail, right 900 tail grab, switch left 900 mute grab, and a left rodeo 900.
She stomped this technical run with tons of style and was awarded 92.33 for her efforts. This score held up through all three rounds. Because of this, she was able to take her first-ever victory lap on the last run. When she was handed her shiny new gold medal, Voisin said, "I can hardly breathe to be honest, but I've been dreaming of this day for a really long time."
Voisin already has two X Games medals, one silver in Slopestyle and a bronze in Big Air.
"I am so grateful to have put the first one down, this feels so good! I've never had a victory lap; I am just so excited to win my first X Games gold!" said Voisin.
On Saturday night, in front of a stacked, sprawling crowd, Harlaut went to work on the Big Air jump. As a veteran in the field, he knew what he had to do and put down all his jumps with smooth style.
He stomped two massive switch triple cork 1440s on both the right and left, which gave him a combined score of 86. This held for first place, which earned Harlaut, 26, his fifth X Games gold medal.
"I am so stoked, everything worked out so well tonight," said Harlaut following the event. "I'd say that pretty much the nicest trick I've ever done was the one I landed on my first jump tonight, I am so stoked!"
Woods, the reigning X Games Big Air gold medalist, was also on fire and put down a fury of spins on the massive jump. He stomped a series of switch triple cork 1440s with a super stylish octo grab. He was awarded a combined score of 82, which landed him in bronze.
Download Photos for Editorial Use.
The X Games action continues on Sunday with Women's Ski Big Air, and Men's Ski Slopestyle Finals. Stay tuned!
ESPN and ABC will televise a combined 15.5 hours of live X Games Aspen 2018 coverage, which will also be accessible via the ESPN App to viewers who receive their video subscription from an affiliated provider. Additional coverage of sports and music will be carried on ESPN3 as well as the latest coverage across ESPN digital platforms, including XGames.com, the X Games App, and X Games pages across YouTube, Twitter, Facebook, Instagram, Snapchat and more.
Visit http://www.monsterenergy.com for exclusive updates from X Games Aspen 2018 including photos, videos, and contest results as they happen. Follow Monster Energy on Facebook, Instagram, Twitter for exclusive behind-the-scenes looks in Aspen
###
About Monster Energy
Based in Corona, California, Monster Energy is the leading marketer and distributor of energy drinks and alternative beverages. Refusing to acknowledge the traditional, Monster Energy supports the scene and sport. Whether motocross, off-road, NASCAR, MMA, BMX, surf, snowboard, ski, skateboard, or the rock and roll lifestyle, Monster Energy is a brand that believes in authenticity and the core of what its sports, athletes and musicians represent. More than a drink, it's the way of life lived by athletes, sports, bands, believers and fans. See more about Monster Energy including all of its drinks at http://www.monsterenergy.com.