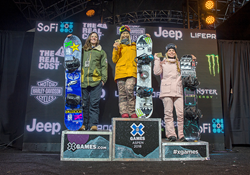 I haven't done back to back 10's in a while. I just feel happy to have put a run down tonight — sometimes the pressure changes things - Chloe Kim
Aspen, Colorado (PRWEB) January 28, 2018
It was another huge day for Monster Energy athletes on Saturday as Jamie Anderson, Darcy Sharpe and Chloe Kim all climbed the podium solidifying Monster's dominance at X Games Aspen 2018. For Kim it was another gold in Women's Snowboard SuperPipe. Sharpe took a silver in Men's Snowboard Slopestyle earning his first X Games medal and Anderson took bronze in Women's Snowboarding Big Air and made history as the most decorated female athlete in X games history.
Culminating the action-packed day was the Women's Snowboard Superpipe and the otherworldly talents of 17-year-old Kim who took gold.
In recent weeks Kim had seen a succession of podium finishes, but has been notably missing from the top, that said, some of her big tricks have been missing as well. Having qualified for the Olympics over a month ago it's assumed she's been playing strategy before the "big" contests. And as far as snowboarding goes, it get's no bigger than the X Games.
On Saturday night though it came down to the wire as going into the last run she trailed Olympic teammate Arielle Gold and was up against an intimidating score of 92.33. With that Kim decided to put it all on the line and show the wild Colorado crowd what she was truly capable of.
Dropping in, she wasted no speed and flew upwards of 15 feet out of the pipe throwing not only the evening's biggest air, but also one of the cleanest, with her stylish take on a classic method. Next, it was her signature frontside 1080. Now riding switch, where she had previously been attempting cab 7's she went for the cab 1080 landing it smooth enough to pump into a frontside 900 before finishing off her run with a solid McTwist.
While this is a run Kim has done before, she had not brought it to the X Games until tonight, making her the first woman in history to land back to back 1080's in the X Games pipe. And with that, the judges awarded her a 93.33, enough to take the gold by a single point.
"I haven't done back to back 10's in a while," said Kim upon being awarded her fourth X Games gold medal in Women's Snowboard Superpipe. "I just feel happy to have put a run down tonight — sometimes the pressure changes things!"
As the crowd went berserk, the announcer summed it up all up with this: "There's talent, and then there's Chloe Kim."
For Sharpe however, today's silver medal performance in Men's Snowboard Slopestyle earned the Canadian his very first X Games medal — an honor that was not lost on the young rider.
"I'm just so happy to even be here," he explained. "Some of these guys I've been watching since I was a kid so for me it's just an honor to be here riding with them."
Fact is though, not only was Sharpe riding with them, he was beating them. In an explosive third run, Sharpe showed an inventive line through the upper rail section getting more tricks in than anyone before cleaning up the jump line on the second half of the course. Starting things off with a switch backside 1260, his smooth landing set him up perfectly for a trick we have seldom seen from the 21-year-old — a frontside 1440 off his toes — a notably difficult spinning technique. With that, he wound up for a show-stopping backside 1440 triple cork.
All smiles and all charisma, Sharpe took his score of 91.00 to heart and ran over and gave his mom a hug in the audience.
Anderson started the day by adding another record to her stellar career when she took the bronze medal in the Women's Snowboard Big Air. With 14 medals (including 5 gold) in her favored discipline, Slopestyle, today's effort in Big Air took her X Games medal count into uncharted territory awarding her the title of most medals ever by a female athlete at X Games.
Standing atop the 80-foot Big Air jump we have to commend Anderson for even competing after a vicious crash on an early run during yesterday's gold medal effort in the Women's Snowboard Slopestyle event. Yet ever the competitor, her focus and uncanny ability to defy distraction allowed her to throw down two of the most progressive tricks she has in her repertoire.
During the jam format Anderson played with the lead and second place before ultimately landing third with a 71.00 — a score owed to a very clean cab 900 double cork and a massive frontside 1080, albeit with a sight hand drag.
"After my slam yesterday I was a little shaken up," she said afterwards. "I didn't land everything perfect, but it takes a lot of time to get these tricks dialed."
Next stop for Anderson will be Pyeongchang, South Korea where on Monday, February 12th women's snowboarding competition begins with the SuperPipe qualifiers, Slopestyle qualifiers and Slopestyle finals. There she will join Kim in hopes of bringing home the gold for Team USA at the XXIII Winter Olympics.
Download Photos for Editorial Use.
ESPN and ABC will televise a combined 15.5 hours of live X Games Aspen 2018 coverage, which will also be accessible via the ESPN App to viewers who receive their video subscription from an affiliated provider. Additional coverage of sports and music will be carried on ESPN3 as well as the latest coverage across ESPN digital platforms, including XGames.com, the X Games App, and X Games pages across YouTube, Twitter, Facebook, Instagram, Snapchat and more.
Visit http://www.monsterenergy.com for exclusive updates from X Games Aspen 2018 including photos, videos, and contest results as they happen. Follow Monster Energy on Facebook, Instagram, Twitter for exclusive behind-the-scenes looks in Aspen.
###
About Monster Energy
Based in Corona, California, Monster Energy is the leading marketer and distributor of energy drinks and alternative beverages. Refusing to acknowledge the traditional, Monster Energy supports the scene and sport. Whether motocross, off-road, NASCAR, MMA, BMX, surf, snowboard, ski, skateboard, or the rock and roll lifestyle, Monster Energy is a brand that believes in authenticity and the core of what its sports, athletes and musicians represent. More than a drink, it's the way of life lived by athletes, sports, bands, believers and fans. See more about Monster Energy including all of its drinks at http://www.monsterenergy.com