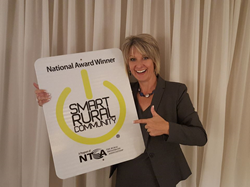 "This designation supports the economic development of the communities we serve, and we look forward to building on this success for many years to come." Marcie Boerner, Office Mgr WCCTA
GOWRIE, Iowa (PRWEB) January 31, 2018
A celebration of the recent Smart Rural Community award and Open House was held at Webster-Calhoun Cooperative Telephone Association (WCCTA) on Tuesday, January 30th.
In September, the NTCA-The Rural Broadband Association honored Webster-Calhoun Cooperative Telephone Association (WCCTA) with the title of Smart Rural Community. WCCTA – located in Gowrie, Iowa – was just one of 13 other providers and their communities that NTCA recognized in 2017.
At a gathering of more than 1,000 leaders of rural telecommunications providers hosted by NTCA, WCCTA was honored with an award for deploying advanced technologies and leveraging those technologies to enable innovation in the areas of economic development and commerce, education, enhanced health care, government services, security and energy use. WCCTA's efforts were judged against those of dozens of other communities nationwide by a panel of experts from the fields of telecommunications, software and technology services, education, health care and economic development.
A ribbon cutting held in the lobby of the WCCTA office in Gowrie was attended by various businesses, economic development organizations, county supervisors and community leaders. It was followed by a short program and special sign presentation to the communities served by WCCTA.
WCCTA provides a Fiber driven network and services including landline telephone, Internet and digital television to 16 area communities. Each of these communities was honored during the ceremony and received a sign that can be displayed in their community designating them as a Smart Rural Community.
The NTCA Smart Rural Community initiative recognizes and celebrates the efforts of rural telecommunications providers and their communities to deliver technologies that make rural communities vibrant places in which to live and do business. The goal of the initiative is to foster the development of Smart Rural Communities throughout rural America by recognizing trailblazers and providing resources to assist broadband providers and connected industries.
"WCCTA works hard to ensure that our members have access to advanced communications and the many benefits those services enable," said Marcie Boerner, WCCTA Office Manager. "This designation supports the economic development of the communities we serve, and we look forward to building on this success for many years to come."
Webster-Calhoun Cooperative Telephone Association is located at 1106 Beek Street, Gowrie, IA 50543. It has a Fiber driven network and provides landline telephone, Internet and digital television service to the Iowa communities of Gowrie, Pilot Mound, Vincent, Paton, Thor, Churdan, Knierim, Somers, Barnum, Duncombe, Farnhamville, Badger, Clare, Moorland, Boxholm, and Lanyon. Additional information is available on Facebook, Twitter, Linkedin and WCCTA website http://www.wccta.com.