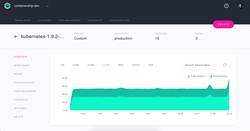 Building on Kubernetes will help us more quickly realize our goals of building a platform that makes multi-cloud the default for startups and the enterprise.
PITTSBURGH (PRWEB) January 30, 2018
Containership, the company behind the popular Containers-as-a-Service platform, Containership Cloud, announced today the release of Containership 3.0. This release is the first in a series that sees the company rebasing its platform on top of the popular Kubernetes container orchestration system. In recent months, Kubernetes has emerged as the leading system for managing containerized workloads in both startups and enterprise businesses. This release will allow for developers and operators to connect their Kubernetes environments to Containership Cloud, and provide a simplified interface for handling deployment, management, and maintenance of infrastructure no matter where it is running. Containership 3.0 allows for the management of clusters from a single pane of glass that is now responsive and mobile friendly, a first for any Container-as-a-Service platform.
Included in this release is support for the following Kubernetes resources, and Containership specific add-on features:

Workload Deployments
Config Maps and Secret Management
Streaming Logs and Events
Metrics (Prometheus)
Network Policies, Services, and Ingress Controllers
Public and Private Registry Support, including DockerHub, Google Container Registry, EC2 Container Registry, and Quay.io
Centralized SSH Key Management
Full support for Kubectl
All of these features are available in an interface that is just as intuitive on a mobile device or tablet as it is on a workstation, and best of all, the platform is completely free for developers.
In addition to the free tier, Containership also provides an enterprise version of the product that includes:

24/7 Monitoring & Support
Multi-User Organizations
Role Based Access Control
Security & Compliances
Kubernetes Training
Explaining his reasoning for the shift to Kubernetes as the underlying orchestration system, CTO Norman Joyner had the following to say: "Kubernetes has emerged as the clear leader in container orchestration solutions, a sentiment that we hear echoed often from both customers and prospects. For us, making the change to Kubernetes was a no-brainer as it provides a featureful, standardized and rock-solid base that we can leverage to more quickly realize our goals of building a platform that makes multi-cloud the default for startups and the enterprise."
Visit Containership.io to sign up for free.
About Containership: Launched at TechCrunch Disrupt in 2015 and founded by developers and IT operators that required more from the existing landscape of platforms to manage containers at scale across any cloud or server, Containership has grown to become an emerging leader in multi-cloud docker deployments. Backed by Draper Triangle Ventures and Birchmere Investments, Containership is Multicloud Made Easy. Visit http://www.containership.io for more info.