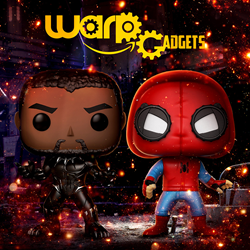 Quality and satisfaction is Warp Gadget's main focus of interest
NORTHRIDGE, Calif. (PRWEB) January 29, 2018
Looking for that latest killer website for unique toys and gadgets? If so, Warp Gadgets is your not so average online retail store. As a company Warp Gadgets started small with a singular idea in mind. Throwing out the formality of what online shopping is today, this company looks to create a singular construct that would reinvent the typical online retail store and attempt to re-energize key online buying experience basic principles. This newly developed company built their strategy around a cross media website network where quality, simplicity, accessibility, and ease of mind intertwine to give customers a memorable buying experience that will have them coming back for more. Functionality is one thing but their products and competitive pricing speak for themselves.
Action Figures
If you are in need of some new unique gift ideas or just looking to add some unique collectable products to add to your collection, Warp Gadgets has some great viral products to satisfy those needs. Their line of action figures features iconic movie chapters, superheroes, super villains. The brands carried include respectable powerhouses such as Marvel, DC Comics, Funko and Harry Potter. They've recently added some very trendy movie based Pop! Vinyls from blockbuster hits such as Harry Potter, Moana, Thor: Ragnarok, Spider-Man Homecoming, and the upcoming Black Panther movie. When it comes to action figure collectables, Warp Gadgets offers customers quality products at great competitive prices. Get with the trend and start your own Pop! Vinyl collection today!
Plush
Warp Gadgets plush collection features high quality stuffed animals that are so adorably cute; it'll make your head spin. This line features zoo animals, pals, and fantasy critters. Zoo animals such as lion, elephant, giraffe, horse, and penguin. Furry pals like cats, dog, and squirrel. The fantasy collection ranges from majestic mermaids to mystical unicorns. The beloved unicorn trend are hot with the buyers today. The unique colorful Tokidoki plush unicorns collection will have you coming for more bundles of plushy joy.
Quality and satisfaction is Warp Gadgets main focus of interest. Their incredible sourcing team works tirelessly to find the best quality products from the most reliable suppliers. Their online presence is structured to give buyers a superior user experience, along with a user interface that allows buyers to find exactly what they're looking for quickly and with the least amount of licks possible. From browser to mobile device, Warp Gadgets advocates a flawless mobile friendly interface provides an accessible and reliable shopping experience. Taking their website for a spin we found the fast, secure, and reliable checkout system allowed us to painlessly place orders without any inconvenience. Buyer satisfaction comes before all else, their team will do whatever it takes to make sure all questions are answered. All together Warp Gadgets might just be one of the best new innovative retail sites we've come across.
For more information, visit http://www.WarpGadgets.com