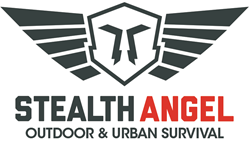 We couldn't be happier about our upcoming partnership with CBS' THE TALK. We're already avid watchers of the program, so we really do think this is the perfect fit
Los Angeles, CA (PRWEB) January 29, 2018
Stealth Angel Survival, the industry leading, American owned and operated outdoor, camping, hiking, adventure and survival equipment retailer is proud to announce that its incredibly popular 2 Person Emergency Kit will be featured in an upcoming episode of CBS' hit morning show THE TALK as part of host Sara Gilbert's birthday celebration. The kit, which features enough food, water and other essential items for up to two people to survive comfortably for a period of 72 hours, will be given out to an audience of equally passionate and hardworking teachers as a surprise during the event's festivities.
"We couldn't be happier about our upcoming partnership with CBS' THE TALK. We're already avid watchers of the program, so we really do think this is the perfect fit" said Krist of Stealth Angel Survival. "We think this is an incredible opportunity to not only bring our products to a wider audience, but to also prove that you don't have to be a survivalist or outdoor enthusiast to find value in products like the 2 Person Emergency Kit" he continued.
"Dangerous situations can happen to anybody and all that you can really control is whether or not you're prepared. We're excited to give an entire audience filled with hardworking teachers the ability to do exactly that. Whether you're talking about a natural disaster like a hurricane or massive snowstorm or just an unexpected power outage, this kit has everything you need to make sure that you get through as safely as humanly possible."
The kit itself features a wide range of different items designed to make sure that two people have the nutrition, the supplies, the shelter and the warmth they need to weather any event for up to three full days until help arrives. In addition to 20 water purification tablets (each tablet successfully purifies up to 1 liter of water), it also includes 12 400 calorie food bars (for a total of 4800 calories) and 12 4 ounce water pouches.
Additionally, the kit features light and communication options like a Dynamo 4-in-1 AM/FM/Weather radio with LED Flashlight and Power Bank, the popular 8-in-1 Stealth Angel Survival Kit, a 12 hour emergency bright stick, and much more. It also offers two 16 hour body warmers, a two person tube tent with rope, hygiene and sanitation items like tooth brushes, tooth paste, soap, shampoo and conditioner and much, much more.
As is true with all items that Stealth Angel Survival sells, everything included in the kit itself has been hand selected by a team of professionals that include law enforcement officers, members of the United States military, survivalists and much more. All items in the kit are also packed securely in a resealable, waterproof storage bag which itself can be incredibly valuable depending on the situation. The kit normally retails for $179.95, but for a very limited time they're available to be purchased directly from Stealth Angel Survival for as little as $139.39. All members of THE TALK'S studio audience will be walking away with one of these high quality and incredibly versatile kits, totally free of charge.
It's important to note that all of the products contained in the Stealth Angel Survival 2 Person Emergency Kit have a five year shelf life, making it the perfect option for people who want to guarantee the type of peace-of-mind that only comes with knowing that any possibility is well and truly covered.
CBS' Daytime Emmy Award-Winning talk show THE TALK (broadcast weekdays 2:00–3:00 PM, ET; 1:00–2:00 PM, PT) features a panel of well-known news and entertainment personalities discussing current events, pop culture, contemporary issues, family, celebrity and the trending topics of the day. The daily one-hour series is hosted by Julie Chen, Eve, Sara Gilbert, Sharon Osbourne, Sheryl Underwood.
Stealth Angel Survival is the industry leading online retailer that has been helping customers find essential outdoor, camping, hiking, adventure and survival equipment for many years. As an American owned and operated business, all items - including the 2 Person Emergency Kit - are hand selected by a team of passionate and knowledgeable experts to help anyone get through any type of situation in the safest and most effective way possible.
Those interested in finding out more information about CBS' THE TALK are encouraged to visit that program's official website at http://www.cbs.com/shows/the_talk/, or by following the show on Twitter using the @TheTalkCBS handle. Those interested in finding out more information about Stealth Angel Survival's 2 Person Emergency Kit, or about any of the other thousands of essential world class products that the company offers, are encouraged to visit that company's official website at https://www.stealthangelsurvival.com.