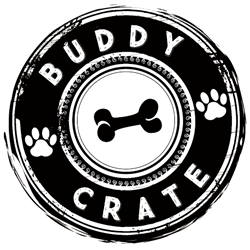 SANTA ANA, Calif. (PRWEB) January 30, 2018
Buddy Crate, a premium subscription box service delivering tasty and natural treats, chewables and toys for the furry buddy in your life, is excited to offer the first month for 50 percent off to new subscribers. Shopping for your pup is easier than ever with a special curated boxed of dog-approved goodies delivered straight to your (doggy) door.
Buddy Crate is all about delivering your dog a nonstop tail-wagging experience. Whether they're teacup sized or supersized, at the end of the day a dog's tail never lies. Each subscription box comes with a customized assortment of 4 to 6 tasty treats, natural chewables, along with durable and safe toys. Buddy Crate's team of crazed dog lovers carefully select products their own dogs love with the mission to bring joy to everybody's buddy in the world.
Visit Buddy Crate's website to sign up and receive a promo code for 50 percent off the first month.
MEDIA CONTACT
Hype Well Media for Buddy Crate
press(at)hypewell(dot)com