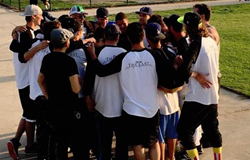 "Make The Last House, your first House" Dr. Drew
(PRWEB) January 30, 2018
Chris Kirby, Director of Admissions at The Last House, stops by Dr Drew's show to talk about sober living with Bob Forrest and Dr. Drew Pinsky. They discuss the advantages of sober living and how to keep patients alive and well after rehab.
Chris Kirby came to The Last House originally as a client from the San Francisco Bay area. After he graduated from the program, he joined them as a "live-in" manager. He's worked on the front lines as a DUI school administrator and counselor and at a high end luxury aftercare program where he utilized motivational interviewing to illicit change without the ability to use consequences, and he is fostering hope in families of active drugs users. Chris continues his education by studying the latest assessment driven protocols to increase client retention.
Thrive Treatment begins by creating outpatient drug treatment that is accessible and well-structured for clients to safely make mistakes and learn new skills. The treatment team has over 30 years of combined clinical expertise, models respect and integrity, while offering everyday tools to make better choices to stay clean and sober through evidenced-based clinical approaches like DBT, CBT, Trauma-focused and Mindfulness modalities. Thrive Treatment upholds the nuts and bolts of life like accountability, values, life skills, boundaries, trust and responsibility to help clients learn to manage sobriety and the anxiety that comes along with living life sober. Thrive helps to process and discard the self-defeating stories and behaviors that keep people stuck. Thrive has also built a community of people who are in it with the client's families and loved ones for the long-haul. Thrive Treatment prides itself on keeping clients connected to their new community long after completion of treatment and are invested in helping them find purpose beyond sobriety.
The founder of Thrive Outpatient Treatment collected some of addiction treatment's most respected and successful clinicians who authentically share a passion for helping others flourish and believe in the same key ingredients to long-term recovery success: values, accountability, life skills, and having fun in recovery.
Thrive is a close-knit treatment family and takes a compassionate, but no-fluff approach. The Thrive treatment team understands first-hand how hard it is for those who struggle with addiction. Integrity is most important to Thrive. It's that simple at Thrive Treatment.
Visit Thrive