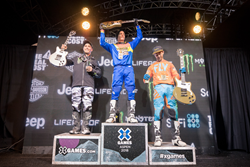 (PRWEB) January 29, 2018
What a spectacular ending to one of the most epic X Games in history! On the last night of X Games Aspen 2018, Snow Bike Best Trick made its debut as a new medal discipline on a custom freestyle track on Buttermilk Mountain. In front of a pumped-up crowd, Monster Energy's Jackson "Jacko" Strong from Lockhart, Australia, brought his signature aerial mastery from motocross into the snow arena for a Silver medal at the brand-new crossover event.
Contested for the first time at an X Games, Snow Bike Best Trick is a new discipline following the same rules as Moto X Best Trick and Snowmobile Best Trick: Riders attack the course in two runs each, trying to post the highest score by launching aerial stunts from a 10-foot tall Super Kicker Ramp – identical to motocross ramps used at Summer X Games – over a 40-foot long gap onto a 12-foot tall snow landing.
Tonight's field of riders consisted of the world's leading snowmobile freestylists, including Monster Energy's Brett Turcotte, as well as motocross innovators such as Axell Hodges and Strong, who has already won three X Games Gold in Moto X Best Trick. Because snow bike freestyle is still in its infancy, there is no standard equipment for catching big air in the snow. Most riders designed their own custom conversion kits – lighter than the standard kits used at yesterday's Snow BikeCross race – to transform motocross machines into freestyle-ready snow bikes with rear-mounted track drives.
Much like the bikes, aerial maneuvers are also still uncharted territory in this new modified crossover sport. Prior to the event, Turcotte made history as the first rider to land a Backflip on a snow bike in February 2016. His teammate Strong, known for frontflips and double backflips on motocross, also mastered snow bike Backflips last year. And as it turned out, going upside down or leaving the saddle for Body Varials would be the key to earning medals in Snow Bike Best Trick in Aspen tonight.
Setting the bar high on his first attempt in the final, Australia's Rob Adelberg pulled a "California Roll" body varial over the kicker, cementing an early lead with an 89.00-point score. Rising to the challenge, Strong came to Aspen with a few tricks up his sleeve: The decorated motocross rider had the crowd on its feet when he edged into second place on Run 1 with a fully extended Cordova Backflip, propping himself into a seated position over the handlebar in mid-air, for 86.33 points.
Maintaining his momentum, "Jacko" followed up on Run 2 with a highly difficult Cliffhanger Flip, a no-handed backflip locking his feet under the handlebar mid-rotation, for 86.00 points and the Silver medal. Joined on the podium by Robert Haslam (Bronze) and Rob Adelberg (Gold), this marks Strong's fifth career X Games medal (3 Gold, 2 Silver) and his first at a winter event.
Also making a strong showing at Snow Bike Best Trick, Turcotte blasted a technical one-handed backflip high above the lip on Run 1, but lost his footing on impact and suffered a slam into the barrier. Fortunately, the five-time X Games medalist, who claimed an impressive two Gold medals in Snowmobile Freestyle and Snowmobile Speed & Style in Aspen this weekend, walked away unscathed.
He landed the maneuver on his second run, but missed the podium with a 76.66 point score for fifth place, ending his run for a historic Winter X Games Gold medal hat trick.
Download Photos for Editorial Use Only.
Speaking of history, this edition of X Games Aspen broke previous crowd records: Total attendance at X Games Aspen 2018 was at a stunning 115,000 spectators. Friday night's 32,000-strong crowd marked the largest Friday crowd ever at an X Games Aspen. Attendance peaked on Saturday at 42,000 visitors and Sunday's events drew 30,000 to Buttermilk Mountain.
Thank you for following the Monster Energy team at X Games Aspen 2018. Visit http://www.monsterenergy.com for exclusive recaps from X Games Aspen 2018 including photos, videos, and contest results. Also make sure to follow Monster Energy on Facebook, Instagram, Twitter to keep updated on our athletes throughout the season.
About Monster Energy
Based in Corona, California, Monster Energy is the leading marketer and distributor of energy drinks and alternative beverages. Refusing to acknowledge the traditional, Monster Energy supports the scene and sport. Whether motocross, off-road, NASCAR, MMA, BMX, surf, snowboard, ski, skateboard, or the rock and roll lifestyle, Monster Energy is a brand that believes in authenticity and the core of what its sports, athletes and musicians represent. More than a drink, it's the way of life lived by athletes, sports, bands, believers and fans. See more about Monster Energy including all of its drinks at http://www.monsterenergy.com.