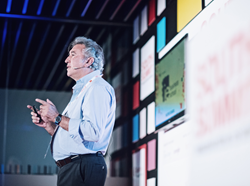 "This growth shows that professionals are looking to learn in more dynamic, fluid and independent ways today." Marcelino Elosua, Founder & CEO, BlueBottleBiz
LONDON (PRWEB) January 31, 2018
BlueBottleBiz, the first collaborative learning platform for business professionals, has announced that Management, Strategy and Leadership is the most read and the fastest growing category of learning in 2017 across its platform.
With 25% of the total, it was the most read category of learning ahead of Human Resources and Organizational Behavior (22%) and IT and Computer Science (18%).
Among BlueBottleBiz's vast array of categories, Management, Strategy and Leadership books, videos, podcasts and articles were the fastest growing assets in 2017, increasing its relative reading time on 2016 by 28%. Human Resources and Organizational Behavior increased by 15% on 2016, IT and Computer Science by 13%, Marketing, Communications and Sales by 12% and Self Development and Careers by 10%.
The most read or watched Management, Strategy and Leadership titles were Lead with Humility by Jeffrey A Krames (AMACOM), Manager's Guide to Virtual Teams by Kimball and Mareen Fisher (McGraw-Hill Education), Communicate Like a Leader by Dianna Booher (Berrett-Koehler Publishers), The Little Book of Big Management Theories by James McGrath and Bob Bates (Pearson Education Limited), Global Strategic Management by Mike W Peng (Cengage Learning) and Time Power by Brian Tracy (AMACOM).
Within the Human Resources titles, the most watched and read assets were Organizational Communication: Approaches and Processes, 7th ed. by Katherine Miller and Joshua Barbour (Cengage Learning), Gamification for Employee Engagement by Akila Narayanan (Packt Publishing), Crucial Accountability: Tools for Resolving Violated Expectations, Broken Commitments, and Bad Behavior, Second Edition, by Kerry Patterson et al (McGraw-Hill Education), Trust and Betrayal in the Workplace by Dennis Reina PhD (Berrett-Koehler Publishers) and The Agile Leader by Steve Gladis (HRD Press).
Finally, within IT and Computer Science, the most watched and read titles were Creating Universes with SAP BusinessObjects by Taha M. Mahmoud (Packt Publishing), Power Pivot and Power BI by Rob Collie (IPG - Independent Publishers Group), Mastering Blockchain by Imran Bashir (Packt Publishing), and Mike Meyers' CompTIA A+ Guide to Managing and Troubleshooting PCs, Fifth Edition (Exams 220-901 & 220-902) by Mike Meyers (McGraw-Hill Education).
"This growth shows that professionals are looking to learn in more dynamic, fluid and independent ways today," Marcelino Elosua, Founder & CEO, BlueBottleBiz commented on the findings. "It is a great sign that managers and executives are using the platform to better themselves and that LMS are coming to us as a one-go, global, independent, competitive, easy-to-offer and complete source of business content to improve their users' experience."
Christian Smythe, Head of Content and Partner Strategy, stated that, "More than 400 international publishers support us and welcome a growing source of income, unparalleled usage statistics and the opportunity to promote their authors directly in front of corporate customers."
During January BlueBottleBiz is launching the Discovery Path series "New Year, New You". Resolutions are often broken between week's one and three of the year, so BlueBottleBiz is helping professionals by giving them new, interactive, and free ways to help them keep on track for 2018. Viewers will be able to access free Discovery Paths throughout January, covering such topics as management skills, female leadership, new job searches, MS Office skills, online and traditional marketing, sales and negotiation skills, project and time management and introduction to cryptocurrencies and more. Each week, a tailored blog will explore motivational techniques and will help the executive stay on track to complete your 2018 learning objectives.
For more information on how BlueBottleBiz is helping to reshape corporate and professional learning by combining expert content with a professional network and collaborative tools, visit us at our stand at Learning Technologies in London - Q9 - on January 31 and February 1 2018 in London, Olympia.
About BlueBottleBiz
BlueBottleBiz, the first collaborative learning platform for business professionals, empowers its members to grow talent and share knowledge using the most expansive digital business content library, and modern social and content marketing tools. The platform provides businesses, publishers, and individual members the ability to increase brand visibility, establish thought leadership, learn from industry experts and build global connections. Since its inception in 2012, BlueBottleBiz has earned the trust of 400 publishers, allowing the platform to feature 50,000 assets, including 15,000 videos. In a crowded marketplace, BlueBottleBiz offers the clear competitive advantage of applying the sharing economy principles to the knowledge space. To learn more about the platform or to sign up for a free trial, visit http://www.bluebottlebiz.com.
Media Contact
Kestell Duxbury
Knowledge Editor and PR Executive
kestell(at)bluebottlebiz(dot)com
+44 (0)7833 433 128